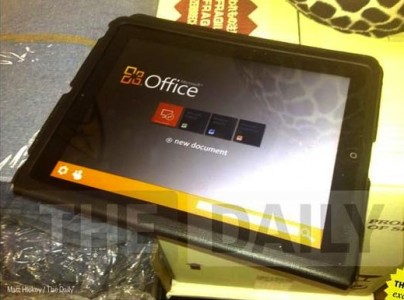 Publicatia The Daily, detinuta de Apple in colaborare cu alt trust media, a avut ocazia de a testa noua aplicatie Microsoft Office pe care compania din Redmond urmeaza sa o trimita pentru aprobare in App Store. Aplicatia are functii asemanatoare cu OneNote App disponibila deja pentru paltforma iOS, va permite editarea documentelor facute in Word, Excel si PowerPoint dar va veni in plus cu un Metro UI foarte interesant. Din pacate doar imaginea de mai sus a fost publicata de The Daily insa publicatia sustine ca documentele editate cu Microsoft office pentru iPad vor putea fi salvate fie local in aplicatie fie pe serverele Microsoft.
A brief hands-on with a working prototype of the software revealed a number of new things. The app's user interface is similar to the current OneNote app, but it has hints of Metro, the new design language that can be seen in Windows Phone and in the as-yet-released Windows 8 desktop operating system. Word, Excel and PowerPoint files can be created and edited locally and online. But it's unclear if Microsoft will support other Office apps at launch or at all. Sources close to the matter also commented that an Android version of Office is not in the works, and that an updated OneNote iOS app will also be released to reflect the Metro design language.
  Compania Microsoft va da tuturor posibilitatea de a transfera documente din calculator in aplicatia pentru iPad folosind propriul sistem Cloud iar asta va ajuta pe oricine sa faca documente in Microsoft Office si sa le deschida/editeze oriunde s-ar afla daca are o tableta iPad si o conexiune de internet. Aplicatia Microsoft Office pentru iPad ar urma sa fie trimisa zilele acestea pentru publicare in App Store.
UPDATE: Microsoft sustine ca zvonul are la baza informatii neadevarate.
The Daily story is based on inaccurate rumors and speculation. We have no further comment.