Pebble este un ceas destept facut special pentru posesorii de smartphone-uri deoarece el se conecteaza la terminalul vostru si chiar va permite sa controlati anumite aplicatii din el. Pentru inceput Pebble se conecteaza wireless la iPhone-ul vostru si preia informatii despre mesajele SMS/apelurile primite insa asta nu e tot deoarece el afiseaza mesajele primite de voi pe Facebook/Twitter sau email plus informatii despre vreme dar interactioneaza si cu aplicatii pentru fitness sau ceasul iDevice-ului. Pentru cei care vor mai mult exista optiunea de a controla aplicatii care redau muzica deci veti putea schimba printr-o simpla apasare de buton melodia de pe iPhone-ul vostru conectat la un dock.
Apps bring Pebble to life. We're building some amazing apps for Pebble. Cyclists can use Pebble as a bike computer, accessing the GPS on your smartphone to display speed, distance and pace data. Runners get a similar set of data displayed on their wrist. Use the music control app to play, pause or skip tracks on your phone with the touch of a button. If you're a golfer, feel free to bring Pebble onto the course. We're working with Freecaddie to create a great golf rangefinder app for Pebble that works on over 25,000 courses world-wide. Instead of using your phone, view your current distance to the green right on your wrist. These apps will be the first, with more in the works!
  Partea cea mai interesanta la Pebble este ca el functioneaza cu ajutorul unor aplicatii care trebuie instalate folosind un smartphone insa care sunt necesare pentru a ne conecta la respectivul terminal. Deocamdata Pebble functioneaza cu iPhone 3GS/4/4S si orice iPod Touch insa numai daca terminalele au iOS 5 instalat deci nu il veti putea utiliza chiar oricum. Pebble este deocamdata doar un proiect pe kickstarter insa a strans aproape 1 milion de dolari din donatii si va fi cu siguranta transformat intr-un produs disponibil la scara larga de indata ce aceasta suma va ajunge la dezvoltatori.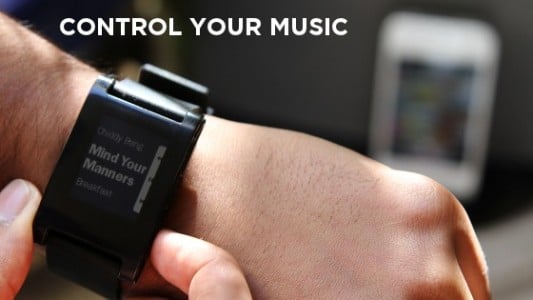 Pebble este un ceas care trebuie sa ajunga pe mana oricarui posesor de smartphone insa asta numai daca acea persoana are macar 100$ la dispozitie pentru a face o achizitie.