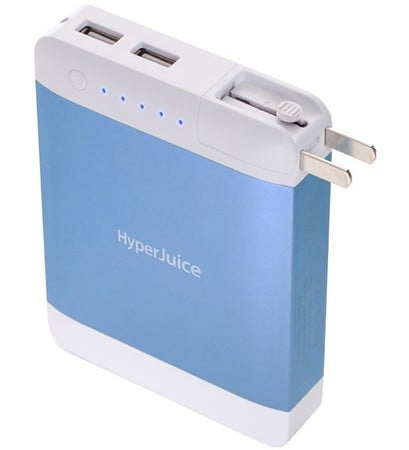 Tableta iPad 3 produsa de catre compania Apple are o baterie de 11.666 mAh, cu 70% mai mare decat cea inclusa in tableta iPad 2. Din pacate bateria mai mare necesita si foarte mult timp de incarcare, insa daca sunteti plecati de acasa aveti nevoie de o sursa alternativa de energie. Sanho HyperJuice Plug este una dintre alternativele bune pentru voi deoarece acest dispozitiv are o baterie externa de 15,600 mAh care poate incarca complet tableta iPad 3 o singura data si asta in timp ce o utilizati.
The device boasts a lithium ion 15,600mAh high-capacity portable battery-pack that features two high powered USB ports, allowing users to simultaneously recharge two USB devices (even two iPads) at the same time. HyperJuice. An iPhone/smartphone will always get 5W of power and an iPad/tablet will always get 10W, regardless of which USB port is used. If two iPads/tablets are connected at the same time, both will share the 15W power equally (7.5 W each), which is sufficient enough for iPad/tablet charging.
  Accesoriul este ofera doua porturi USB si este capabil sa incarce un iPhone si o tableta iPad in acelasi timp, oferind 15W pentru ambele dispozitive, adica 10W pentru o tableta iPad si 5W pentru un iPhone. Incarcarea se face prin conectarea Plug-ului direct la priza si daca locuiti in Romania trebuie sa va cumparati un adaptor deoarece dispozitivul nu este compatibil cu prizele utilizate la noi. Sanho HyperJuice Plug va fi lansat luna aceasta in doua versiuni, una cu baterie de 10.400 mAh care costa 129$ si una cu baterie de 15.600 mAh care costa 159$.
Thanks to KFF.