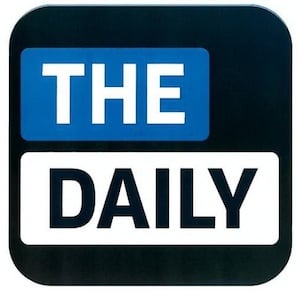 In iarna anului 2011 se lansa primul ziar conceput exclusiv pentru tableta iPad, numele sau fiind The Daily. Apple si News Corp au lucrat impreuna la dezvoltarea sa, initial publicat a avut parte de un succes moderat, insa se pare ca in final este nevoie de mai mult pentru a il tine in viata. 120 de angajati lucreaza in momentul de fata pentru The Daily, dupa inchiderea publicatiei ei vor ajunge in redactia The New York Post, iar continutul din aplicatie va inceta sa ami fie actualizat incepand cu data de 15 decembrie.
From its launch, The Daily was a bold experiment in digital publishing and an amazing vehicle for innovation. Unfortunately, our experience was that we could not find a large enough audience quickly enough to convince us the business model was sustainable in the long-term. Therefore we will take the very best of what we have learned at The Daily and apply it to all our properties. Under the editorial leadership of Editor-in-Chief Col Allan and the business and digital leadership of Jesse, I know The New York Post will continue to grow and become stronger on the web, on mobile, and not least, the paper itself. I want to thank all of the journalists, digital and business professionals for the hard work they put into The Daily.
  In ciuda unei idei care parea initial a fi buna, iata ca un ziar facut exclusiv pentru iPad si exclusiv pentru SUA, nu poate atrage chiar atat de multe venituri pentru a fi tinut in viata. Daca The Daily ar fi fost disponibila si in alte zone de pe glob, atunci poate nu s-ar fi ajuns la asa ceva, insa cei care au intentia sa faca alte publicatii exclusive pentru iPad ar trebui sa invete ceva din acest esec.