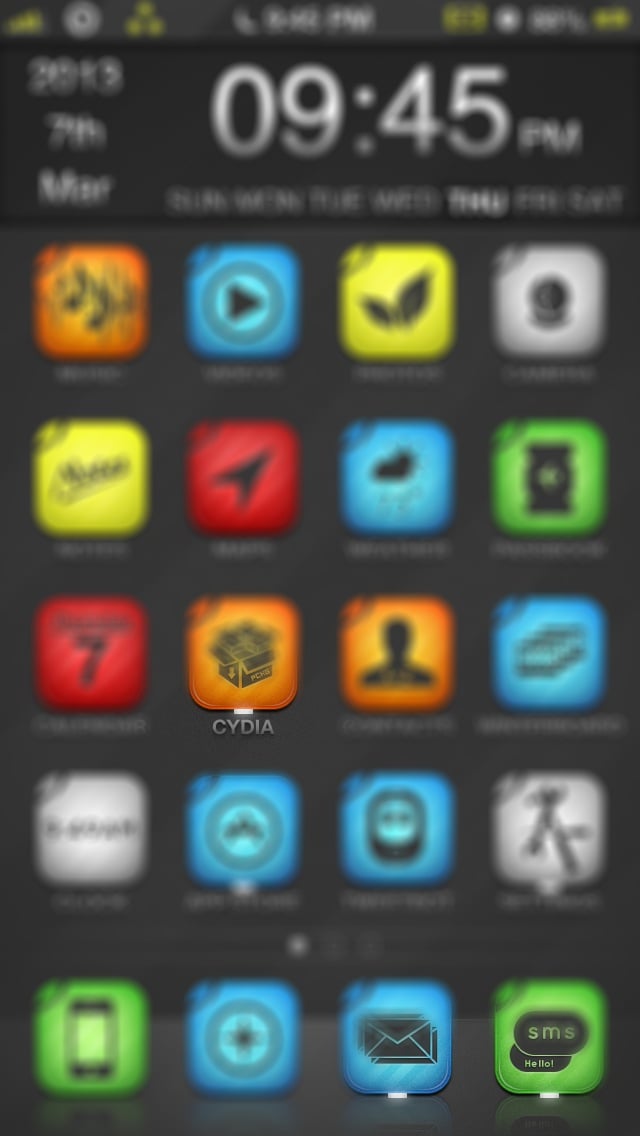 Underlight Notification Badge este o tema lansata in cursul noptii trecute in Cydia, iar prin intermediul sau putem marca diferit aplicatiile care au notificari necitite. In locul clasicelor badge-uri pozitionate in partea dreapta sus a aplicatiilor putem afisa cate un patrat alb sub iconita fiecarei aplicatii, exact precum vedeti in imaginea de mai sus. Ideea este de a simplifica intregul sistem de marcare a aplicatiilor si ca sa fiu sincer Springboard-ul ar arata mult mai frumos si mai "curat" in acest mod.
This does NOT indicate an app is running in the background!!! It's simply a replacement for your notification badge, minus the number(s). Instructions: Install Boover from Cydia. It's a FREE tweak. Go to Settings > Boover and use the following settings: Badge position: Bottom center, Pixel precision offset Y: -4.0 (tap Move up four times), Pixel precision offset X: 0.0 (leave default), Badge scale: 1.0 (leave default), Then tap "Save changes and respring", Check mark Underlight Notification Badge in Winterboard, make sure it's at the very top of the list so it overrides any other settings then respring. NOTE: The position is set for default icon sizes, depending on the theme you use, you might have to adjust the positioning. For any questions/comments get in touch with me @deckedsg. P.S the theme used in the screenshot is iFlat 3 Evolution.
  Underlight Notification Badge cu ajutorul tweak-ului Boover care repozitioneaza badge-urile notificarilor, dar si a platformei Winterboard, iar in descrierea de mai sus aveti listati cativa pasi ce trebuie facuti pentru a putea utiliza tema. Underlight Notification Badge este disponibila gratuit in repo-ul ZodTTD & MacCiti al Cydia.