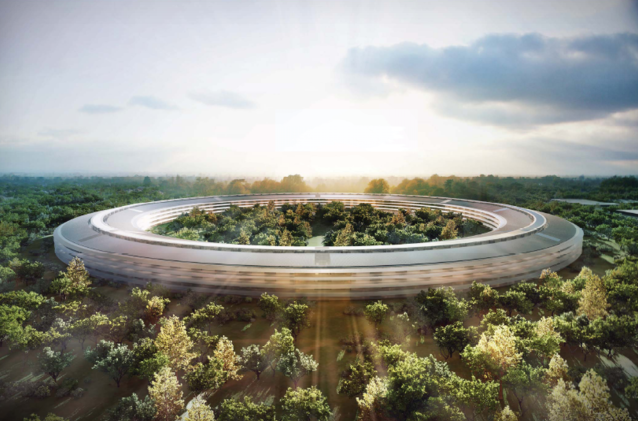 In vara anului 2011 Steve Jobs aparea pentru ultima oara intr-o pozitie oficiala reprezentand Apple in fata consiliului local al orasului Cupertino. Atunci el cerea acordul consilierilor locali pentrua  incepe constructia celui mai indraznet proiect local, un nou campus pentru Apple. Atunci Jobs spunea ca intreaga constructie va costa 3 miliarde de dolari si va fi gata in anul 2015, insa in final ea a ajuns sa coste 5 miliarde de dolari si deschiderea sa a fost deja amanata pentru anul 2016. Cu 2 miliarde de dolari peste bugetul initial, compania de arhitecti care construieste cladirea cauta deja metode de a economisi macar 1 miliard de dolari, insa e putin probabil sa poata termina proiectul la data anuntata initial.
Since 2011, the budget for Apple's Campus 2 has ballooned from less than $3 billion to nearly $5 billion, according to five people close to the project who were not authorized to speak on the record. If their consensus estimate is accurate, Apple's expansion would eclipse the $3.9 billion being spent on the new World Trade Center complex in New York, and the new office space would run more than $1,500 per square foot—three times the cost of many top-of-the-line downtown corporate towers.
  Viitoarea cladire a celor de la Apple are nevoie de 6 km² de sticla si pe intreg cuprinsul sau nu exista o bucata de sticla dreapta, Steve Jobs spunand ca acest tip de constructii necesita foarte multi bani pentru a fi finalizate. Apple nici macar nu a inceput procesul de constructie deoarece incearca sa incheie contracte cu constructori din SUA si le ofera acestora mai putini bani decat ar castiga in mod normal, compania din Cupertino fiind specializata pe incheierea de acorduri care ii sunt mai mult decat favorabile.
One reason for the new timetable, say three people who have spoken to Apple personnel about the project, is that the company has been working with lead architect Foster + Partners to cut $1 billion from the budget before proceeding. Jobs and Apple first hired Norman Foster's firm, renowned for the rebuilt Reichstag in Berlin and Hearst Tower in New York, in 2010. Apple has named a general contractor—a joint venture of DPR Construction, in Redwood City, Calif., and prefabrication specialists Skanska USA Building in New York—but has not finalized agreements with the scores of subcontractors needed to complete the job. Some contractors will be submitting bids by May. There's so much dirt to be removed, excavating the site will take six months and require a continuous, 24-hour convoy of trucks, says a former Apple manager who heard a presentation from Foster's firm.
  Noul campus Apple va fi construit pe o suparafata de peste 200.000 m² va folosi indeajuns de multa energie solara pentru a alimenta cu energie electrica 4000 de locuite si va incerca sa fie un proiect care se sustine singur. Steve Jobs a gandit o cladire foarte frumoasa si interesanta, demna de compania care este Apple, insa mai sunt destui ani care ne despart de finalizarea sa.