Volkswagen iBeetle este o masina recent lansata de catre producatorul german, ea fiind, teoretic, un tribut adus companiei Apple. In afara numelui care este inspirat din filosofia companiei Apple, masina are culorile alese in baza celor pe care Apple le foloseste pentru propriile produse si desigur ca permite conectarea unei game foarte variate de iDevice-uri ale companiei Apple. In afara sistemului Siri Eyes Free, masina permite interconectarea iDevice-urilor folosind un dock sau o conexiune Bluetooth, iar gama sa de functii este mai mult decat interesanta.
  Mai multe detalii gasiti pe website-ul Volkswagen, iar deocamdata nu exista informatii despre pret.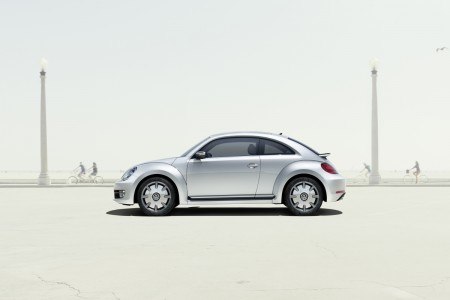 When this special app is launched on an iPhone, it can either connect the phone to the Beetle via the docking station or wirelessly. Each option allows for different app functions to be accessed: 

Spotify: lets users stream media such as new songs, customized playlists or online radio stations into the Beetle. Those who wish can post their favorite music directly to friends. In addition, users in the Beetle can switch between "Spotify" and "iTunes" at any time.
Expert: offers five functions which make the iPhone an extended on-board instrument of the Beetle, such as a G-Meter (for measuring lateral acceleration), oil and coolant temperature gauges for the engine, a chronometer, and a compass.
Trainer: can be used to compare driving times, distances, and fuel economy values for different routes between any two destinations. Here, too, tips can be posted via social networks like Twitter and Facebook—such as which route is faster to the office.
Reader: lists the latest messages from social networks like Facebook, and reads iPhone messages aloud.
Postcard: Sends the current location of the Beetle to friends as a digital postcard with a map motif.
Photo: Sends photos taken inside the car to numerous social networks. Simply activate it, and the app does the rest.
Milestones: Available when the smartphone is undocked. Rewards its users with virtual "milestone stickers" for the Beetle when certain tasks have been completed.