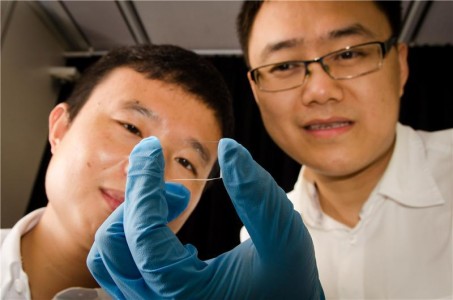 Cercetatorii Nanyang Technological University au reusit sa dezvolte un nou senzor pentru camere dedicate terminalelor mobile, el permitand utilizatorilor sa inregistreze poze clare si luminate in conditii  de luminozitate scazuta. Senzorul este fabricat folosind grafit si practic in situatii cand lumina este scazuta el ne permite sa inregistram poze care au o calitate cel putin similara cu cele inregistrate in timpul zilei, iar aici vorbim desigur despre iluminarea subiectilor si a obiectelor din fata sa.
The new sensor made from graphene, is believed to be the first to be able to detect broad spectrum light, from the visible to mid-infrared, with high photoresponse or sensitivity. This means it is suitable for use in all types of cameras, including infrared cameras, traffic speed cameras, satellite imaging and more. Not only is the graphene sensor 1,000 times more sensitive to light than current imaging sensors found in today's cameras, it also uses 10 times less energy as it operates at lower voltages.
  Noul senzor este de 1000 mai sensibil la lumina decat senzorii din actualele terminale mobile si consuma de 10 ori mai putina energie deoarece functioneaza la voltaje mult mai scazute. Dezvoltarea acestui senzor a durat nu mai putin de 2 ani cu ajutorul catorva sute de mii de dolari si partea interesanta este ca proiectul este aproape de final, asa ca senzorul ar putea fi implementat in terminalele mobile care vor fi lansate in urmatorii ani pe piata, insa numai daca producatorii de terminale mobile vor fi interesati sa il cumpere.
We have shown that it is now possible to create cheap, sensitive and flexible photo sensors from graphene alone. We expect our innovation will have great impact not only on the consumer imaging industry, but also in satellite imaging and communication industries, as well as the mid-infrared applications. While designing this sensor, we have kept current manufacturing practices in mind. This means the industry can in principle continue producing camera sensors using the CMOS (complementary metal-oxide-semiconductor) process, which is the prevailing technology used by the majority of factories in the electronics industry.