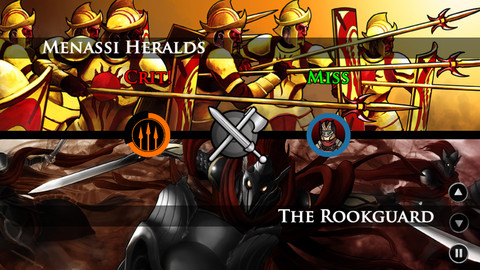 RAVENMARK: Scourge of Estellion este un turn based strategy game disponibil de ceva vreme in App Store, iar in urmatoarele zile il puteti cumpara la jumatate de pret. Cu gameplay-ul centrat pe epica planeta Ecliss, RAVENMARK: Scourge of Estellion ne duce intr-o lume imaginara in care luam parte la batalii "istorice", iar inteligenta si capacitatea de a aseza strategic armatele va vor ajuta sa le castigati. Voi veti avea rolul de aproteja Empire of Estellion in fata armatei trimise de catre Kaysan, iar la dispozitie veti avea o serie de creaturi mitice si diverse magii.
WHERE EPIC FANTASY AND TURN-BASED STRATEGY COLLIDE! Awarded the Charles S. Roberts Award for Best Science-Fiction or Fantasy Computer Wargame! Witching Hour Studios presents RAVENMARK: Scourge of Estellion, a refreshing take on turn-based strategy set in the completely original world of Eclisse. Driven by an epic tale of conquest and redemption, the single-player battles and cutscenes of RAVENMARK are gorgeously rendered in lovingly hand-painted 2D. Feel the sound and fury of war as you dig into the most satisfying strategy experience iOS has to offer!

In a land known as Eclisse, where a great sun and three moons rule the azure skies, the ruling Empire of Estellion is beset by a great scourge from their past – the sun-eating mystics from the forgotten nation of Kaysan. Follow the mark of the raven and the heroes who march under its dark wings, as they struggle to survive under the weight of ruthless ambition and political intrigue!
  RAVENMARK: Scourge of Estellion a avut un succes moderat in App Store si daca sunteti un fan al jocurilor de acest gen, atunci poate ca promotia v-ar convinge sa il cumparati.
Nume:
RAVENMARK: Scourge of Estellion
---
Developer: Witching Hour Stu…
Universala
Categoria: Games
Descriere: WHERE EPIC FANTASY AND TURN-BASED STRATEGY COLLIDE! Awarded the Charles S. Roberts Award for Best Science-Fiction or Fantasy Computer Wargame! **** Featuring iPhone 5 and Game Center support! ****
NOTE: All current and future campaigns will be playable w…
Dimensiunea aplicatiei este: 873.2 Mb
---