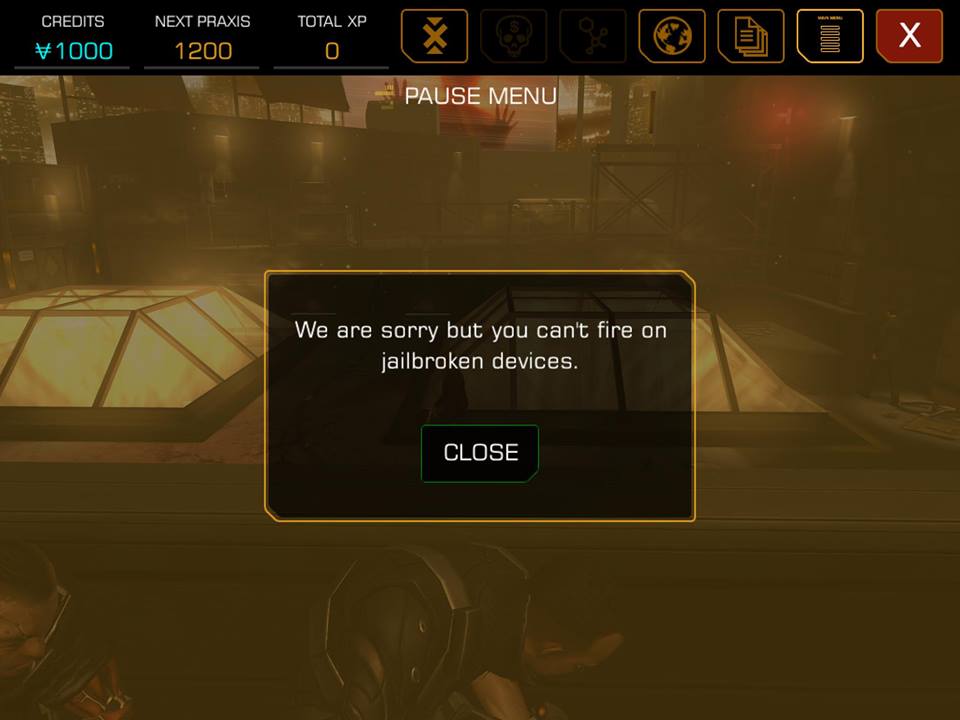 Saptamana trecuta v-am spus ca Deus Ex: The Fall a fost lansat in App Store, ca jocul nu permite celor cu jailbreak sa traga cu armele, decat daca instaleaza o anumita aplicatie din Cydia, si ca dezvoltatorul sau va lansa un update care va remedia problema. Ei bine in cursul acestei seri jocul a fost actualizat si printre multiplele noutati implementate de catre compania Square Enix se numara si posibilitatea de a utiliza jocul pe terminalele care au jailbreak facut. Acum puteti trage cu oricare dintre armele disponibile in joc si nu veti mai intalni mesajul din imaginea de mai sus cand apasati pe butonul de tragere.
Thanks to your support and feedback, we've made a range of improvements including:

Improved enemy AI reaction and combat behavior
Increased XP rewards for completing objectives
Increased the amount of credits gained as rewards, across the game
Improved damage and accuracy stats for the Combat Rifle
Increased accuracy of Shotguns for better mid-range effectiveness
Reduced some weapon costs (including high-end Plasma Rifles and Rocket Launchers)
FIX: Removed the restriction on weapon firing which affected certain devices.
  Deus Ex: The Fall este disponibil in format universal in App Store.
Nume:
Deus Ex: The Fall
---
Developer: SQUARE ENIX Ltd
Universala
Categoria: Games
Descriere: Deus Ex: The Fall minimum requirements: iPad 3 and above, iPad Mini, iPhone 4S and above, iPod Touch 5 and above.
iPad 2 support coming soon!
NOTE: Deus Ex: The Fall requires 1.6GB free space to install. Before playing Deus Ex: The Fall, we recommend c…
Dimensiunea aplicatiei este: 770.8 Mb
---