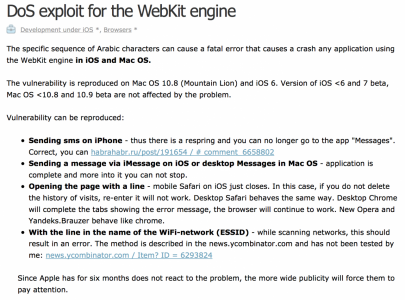 Saptamana trecuta v-am dezvaluit faptul ca un exploit pentru iOS si OS X permite hackerilor sa atace iDevice-uri sau Mac-uri, blocandu-le aplicatiile cu un set special de caractere. In incercarea de a afisa acele caracetre pe terminale, aplicatiile iDevice/Mac-urilor se blocheaza si nu mai pot fi redeschise de catre utilizatori. Desi Apple stie despre problema si nu a rezolvat-o inca, in cursul noptii trecute a fost lansat in Cydia tweak-ul GlyphPatch, care o rezolva. Conform descrierii, tweak-ul protejeaza iDevice-urile in fata oricarui tip de atacuri de acest gen, insa el este accesibil doar celor care au jailbreak.
Prevent apps from crashing when rendering a malicious sequence of characters. On Aug 29th, 2013, a DoS (Denial of Service) exploit targeting iOS / OS X was disclosed. This exploit is based on a vulnerability affecting iOS / OS X characters rendering engines: this tweak aims to patch that vulnerability in order to protect the user from this kind of attacks, since the exploit can be triggered through different surfaces (SMS, iMessage, web, network SSID).
  Dezvoltatorul GlyphPatch a publicat o serie de explicatii in legatura cu patch-ul si exploit-ul, voi le puteti citi aici, iar tweak-ul il puteti descarca gratuit din repo-ul BigBoss al Cydia.