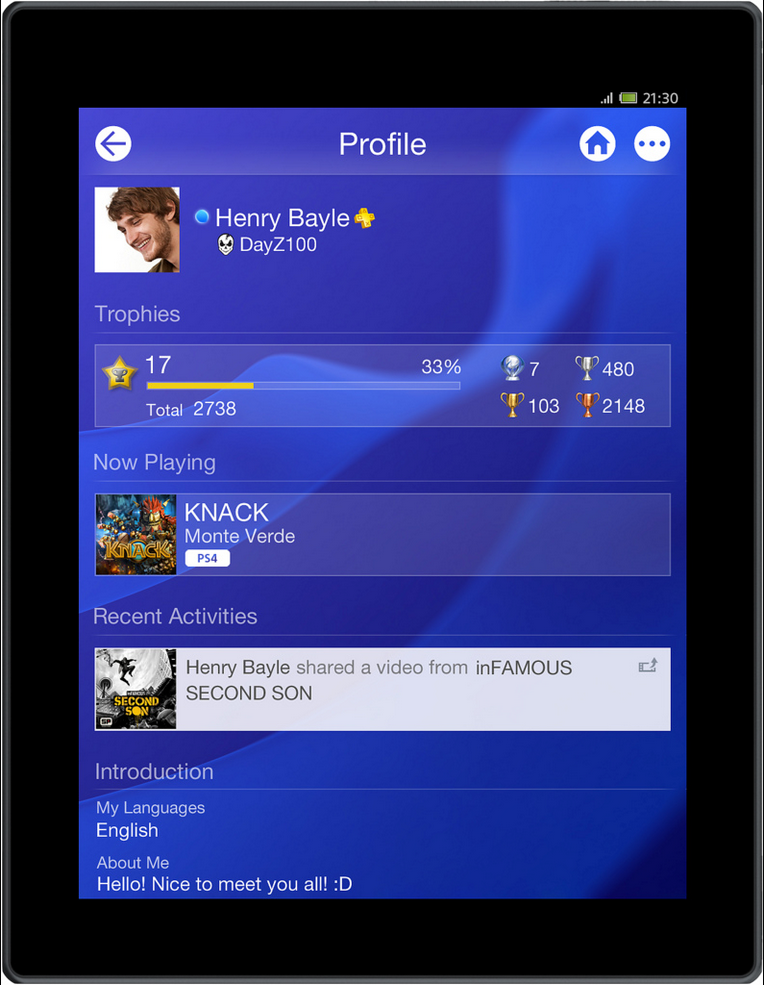 Lansarea Playstation 4 va aduce pentru posesorii de iDevice-uri si o aplicatie special gandita de catre cei de oan Sony, ea permitandu-le acestora sa isi administreze profilurile create pentru platforma Playstation Network. Aplicatia le va permite utilizatorilor sa intre in contact cu orice prieteni adaugati in profil, va permite compararea rezultatelor in diferse jocuri, vizualizarea trofeelor castigate de catre prieteni de-a lungul timpului, dar si vizualizarea continutului video inregistrat de catre prieteni in timpul jocurilor.
It's an application that anyone can download for free on iOS and Android devices. There are a variety of things you can do with it. You can connect to your PlayStation profile, and send messages – even voice messages – to friends between your smartphone and PS4. A friend on PS4 can also send out an invitation for a multiplayer game, which you can then check on the App, and you can also purchase PS4 games from PlayStation Store. Your game will immediately start downloading while you're away.
  Mai mult decat atat, aplicatia va permite achizitionarea de jocuri pentru PS4 direct din PlayStation Store, iar daca doriti puteti trimite chiar invitatii pentru jocuri multiplayer catre prietenii vostri, totul in timp ce jocurile cumparate se descarca pe consola pana ajungeti voi acasa. Separat de acestea, aplicatia celor de la Sony va putea fi utilizata ca un ecran secundar pentru a obtine diverse bonusuri in jocurile concepute pentru reteaua PSN, unii producatori putand oferi chiar si continut special care va fi disponibil doar in aceste aplicatii mobile.
There are many big publishers creating their own apps for their games, like Watch_Dogs or Battlefield, and that's great. But smaller developers can use PlayStation App to connect to PS4 and load an application, like drawing software for example, so that you don't have to download and install a specific app on your smartphone. It's open to all PS4 developers to use.
  Aplicatia va fi disponibila impreuna cu PS4 in App Store-ul celor de la Apple, deci nu va fi o asteptare extrem de lunga.