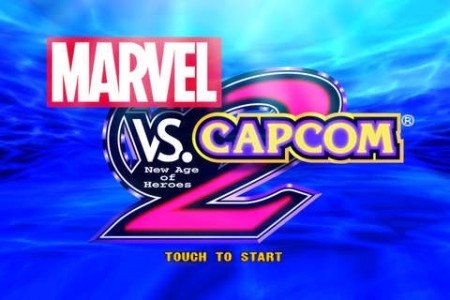 MARVEL VS. CAPCOM 2 este un joc lansat cu mai bine de un an de zile in urma, el oferindu-ne posibilitatea de a incerca in lupta cei mai popular eroi ai benzilor desenate. Wolverine, Iron Man, Ryu si alte 53 de personaje ale benzilor desenate Marvel si Capcom sunt puse in lupta in acest titlu, puterile speciale ale fiecaruia fiind disponibile pentru fiecare lupta. Fiind similar intr-o anumita masura cu deja celebrul Street Fighter, MARVEL VS. CAPCOM 2 permite inclusiv provocarea prietenilor la lupte multiplayer locale si nu doar atat.
Wolverine & Iron Man VS. Ryu & Chun-Li! One of the most popular arcade-fighting games of all time arrives on the App Store for your iOS tablet or mobile device! Marvel vs. Capcom 2 brings together legendary characters from the Marvel and Capcom franchises to duke it out in an insane, action-packed, tag-team fighting experience. Pit your favorite heroes in dream match-ups thanks to the robust 56-character roster. With the optimized iOS touchscreen controls, 2-player versus-mode, unlockable secrets and characters, you better buckle up and prepare to be taken for a ride! 

A full-featured port of one of the best fighting games of all-time
Marvel vs. Capcom 2 has previously only been enjoyed in arcades and consoles for over a decade. Now enjoyable anywhere, anytime with the iOS version.
Deep 56 Character Roster Featuring Characters from the Marvel and Capcom franchises
One of the largest character rosters in any fighting game to date
Bringing together Marvel's greatest comic-book heroes and Capcom's fiercest video-game fighters
Versus Mode Battles 
Users can connect with other iPhone users via Bluetooth and play against each other 
New streamlined touchscreen controls optimized for iOS 
Introducing the "Flick Button," a new control feature that streamlines complex inputs
  MARVEL VS. CAPCOM 2 este disponibil la pret redus pentru o perioada limitata de timp si daca sunteti interesati de el, va recomands a profitati de ocazie.

Nume:
MARVEL VS. CAPCOM 2
---
Developer: CAPCOM Co., Ltd
Universala
Categoria: Games
Descriere: Happy holidays from Capcom! Celebrate the holidays with your favorite Capcom game at a discounted price! Limited time only.
***********************************************
Please check the purchase price displayed when making your purchase.
The price disp…
Dimensiunea aplicatiei este: 146.9 Mb
---