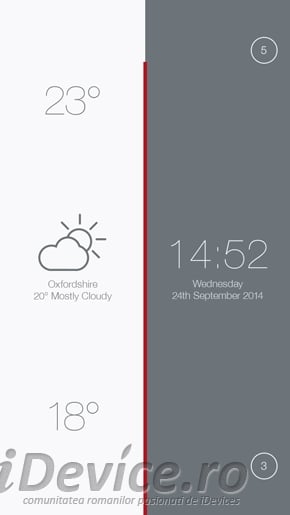 Lockssreen Invert este un tweak lansat in cursul serii trecute in Cydia, iar cu ajutorul sau putem reorganiza intreaga interfata a LockScreen-ului iOS 7. Dupa cum puteti vedea deja din imaginea de mai sus, tweak-ul elimina complet intreaga interfata grafica a LockScreen-ului clasic pentru iOS 7 si o inlocuieste cu una complet diferita ce imparte ecranul in doua sectiuni separate cu informatii utile pentru noi.
LockScreen Invert' features: * Apple iPad, iPhone 4 & iPhone 5 support * Time & Date * Weather * Battery Information * Missed Calls * Unread Messages. By default, the left side of your LockScreen displays the current weather in your location in addition to showing the high and low temperatures. On the right side of your LockScreen is displayed the current time and date. At the top right, the displays the number of unread messages from: * Messages App * Mobile Mail * WhatsApp * SnapChat * Facebook * Twitter * Tweetbot3.
  In partea stanga avem afisate informatii despre vreme si o prognoza meteo pentru zilele urmatoare, in timp ce in partea dreapta avem afisata ora si toate notificarile pierdeute pentru diverse aplicatii. Notificarile sunt separate in doua sectiuni pentru a va putea da seama mai usor care si de la ce tip de aplicatie privin. Mai mult decat atat, tweak-ul are si un meniu de seatari disponibil, asa ca puteti personaliza informatiile dupa bunul plac.
  Lockssreen Invert este disponibil in repo-ul Zodttd&Macciti al Cydia.