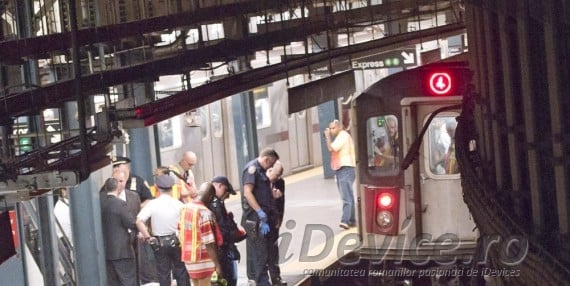 Un accident dramatic a avut loc in cursul acestei dupa-amiezi in New York, SUA, o femeie fiind ucisa de catre un vagon de metrou in timp ce incerca sa-si recupereze tableta iPad. Femeia astepta pe peron ca garnitura de metrou sa intre in statie, insa tableta iPad i-a scapat din mana si intr-o incercare de a o prinde, femeia s-a dezechilibrat si a cazut pe sine chiar in momentul in care vagonul principal se apropia de ea.
The woman who was crushed to death by a subway train at Union Square on Saturday lost her balance after fumbling with her iPad, causing her to fall onto the tracks, officials said. The conductor spotted Ayuso's body on the rails and tried to stop the train as it was pulling into the station, but it was too late.
  Intregul accident demonstreaza inca odata cat de importante sunt pentru noi terminalele mobile, insa viata trebuie sa primeze intotdeauna in aceste cazuri, asa ca nu va puneti in pericol pentru a salva un terminal mobil ce poate fi inlocuit oricand.