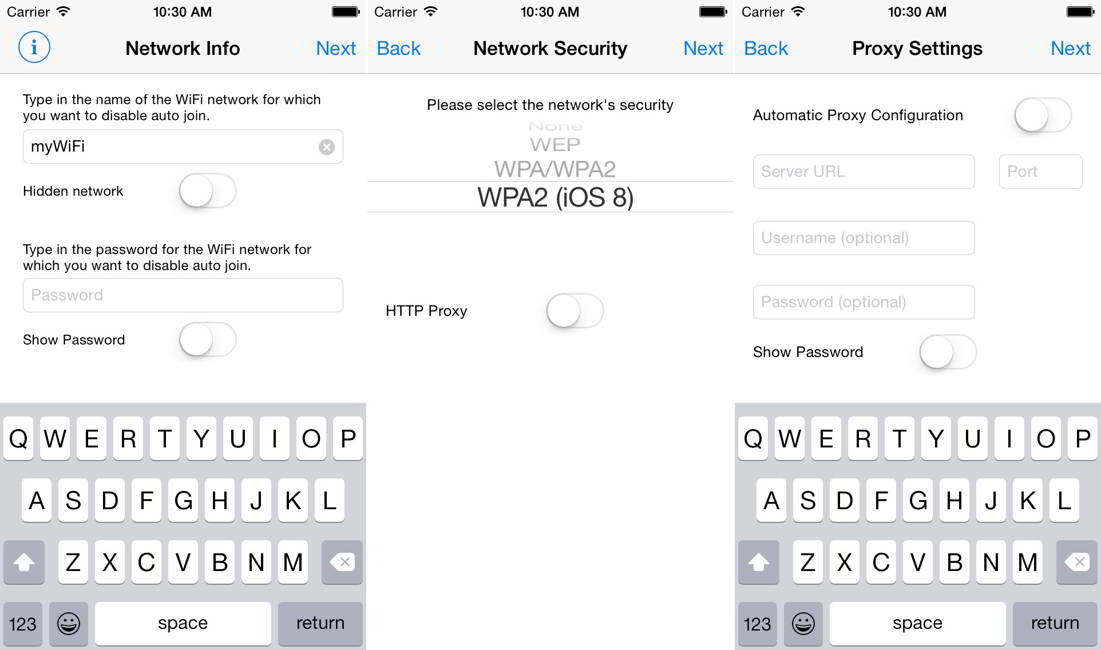 WiFi Priority este o aplicatie lansata zilele trecute in App Store, ea primitand sa permita fara jailbreak prioritizarea conectarii la retelele Wi-Fi aflate in preajma noastra. Daca va intrebati cum realizeaza ea acest lucru fara a avea acces de administrator la aplicatia Configurari, Settings, a iOS 8, ei bine instalarea unui profil special sta la baza functionalitatii. Cu ajutorul acestui profil, care trebuie instalat in terminalele noastre dupa instalarea aplicatiei din App Store, WiFi Priority obtine tot accesul necesar pentru a controla automat modul in care ne conectam la retelele Wi-Fi.
Generally all iOS devices rank available WiFi networks alphabetically and connect to the topmost known network in that list first. However, there are situations in which you may want to avoid that and prefer to connect to another known network instead. This is where "WiFi Priority" comes to your aid. It simply lets you disable the auto-join function for selected networks and thus prioritize the one that you prefer by creating and installing a configuration profile on the device.
  Dupa cum puteti vedea deja si din imagini, aplicatia impune conectarea la anumite retele Wi-Fi in prealabil, iar in cazul fiecarei conectari ne permite sa alegem daca ne vom conecta din nou automat la ea sau nu. Practic WiFi Priority prioritizeaza posibilitatea de a ne conecta la retele Wi-Fi prin oferirea optiunii de a activa sau dezactiva optiunea de conectare automata pentru retele. Dezactivand aceasta optiune pentru retelele Wi-Fi nedorite va impune conectarea manuala la ele, in timp ce mentinerea optiunii active va conecta terminalele automat doar la retelele la care dorim.
Instead of making your device forget the topmost networks you can now prevent them from automatically connecting first. Just enter the network information for the networks you don't want to auto-connect and let "WiFi Priority" do the rest. Afterwards your preferred available network will always connect first and you will still be able to use the other networks by just tapping on them in your network list.
  Functionalitatea WiFi Priority este foarte simpla, insa adevarata realizare este oferirea sa fara a face jailbreak in prealabil si daca sunteti interesati de ea, va recomand sa o cumparati cat inca aveti ocazia. WiFi Priority este disponibila pentru DESCARCARE in format universal din App Store la pretul de 0.99 euro.