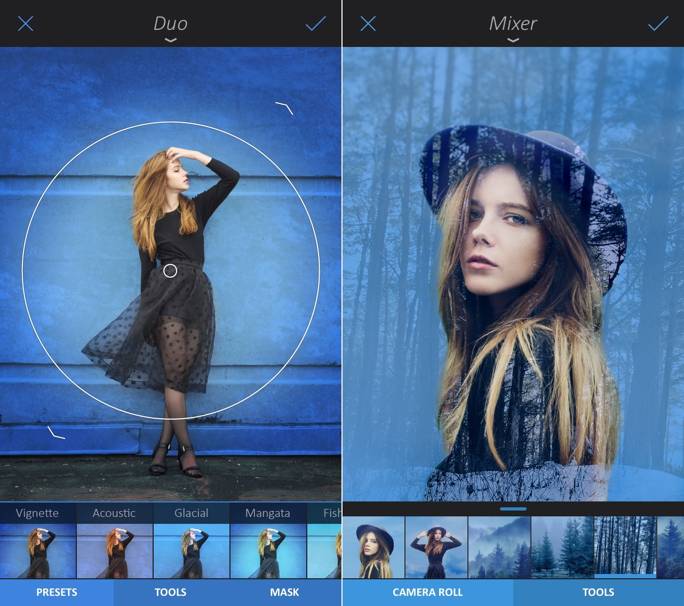 Ieri v-am vorbit despre aplicatia gratuita a saptamanii oferita de catre compania Apple, iar astazi vorbim despre cea mai buna aplicatie a saptamanii recomandata de catre cei din Cupertino. Enlight este aplicatia aleasa de catre compania Apple pentru promovare in App Store in urmatoarele 7 zile si vorbim despre un titlu creat special pentru cei carora le place sa modifice dupa bunul plac pozele inregistrate cu propriile iDevice-uri sau descarcate de pe internet.
  Dupa cum puteti vedea si din imaginea de mai sus, aplicatia ne pune la dispozitie o multitudine de presetari, filtre, masti si optiuni pentru editarea pozelor, astfel incat ele sa arate cat se poate de bine dupa aplicarea tututor schimbarilor dorite. Enlight este prezentata ca o aplicatie intuitiva ce ofera optiunile potrivite acolo unde este nevoie de catre ele, calitatea pozelor salvate dupa editare fiind la fel de buna precum cea avuta de catre ele in momentul inregistrarii de catre noi.
WISH YOU DIDN'T HAVE TO USE SO MANY APPS TO EDIT A SINGLE PHOTO? YOU DON'T.
DOWNLOAD ENLIGHT – EVERY PHOTO APP YOU'VE EVER NEEDED, WANTED, OR DREAMED OF – COMBINED INTO ONE POWERFUL, BEAUTIFULLY DESIGNED PHOTO EDITOR. ENLIGHT IS THE SUPERIOR WAY TO CREATE STUNNING IMAGES ON IPHONE. THE MOST COMPREHENSIVE, HIGHEST QUALITY PHOTO EDITING APP SO POWERFUL AND USER-FRIENDLY IT'LL BE THE LAST PHOTO APP YOU EVER DOWNLOAD. TRY IT TODAY AND SEE FOR YOURSELF.
  Dupa cum puteti vedea si din lista de mai jos, aplicatia Enlight ne pune la dispozitie o gama extrem de diversificata de optiuni pentru modificarea pozelor, astfel ca in baza lor va puteti crea poze perfecte direct in iDevice-uri. Aplicatia Enlight este disponibila pentru DESCARCARE din App Store intr-un format compatibil cu iPhone si iPod Touch.
Brilliant features to bring the best out of your photo
Precise & selective control over tone, color, and details
Create and save your own unique presets
Built-in masking within every tool allow you to seamlessly blend effects
Reproduce the style of classic cameras and vintage film
Revitalize colors with two-toned gradients
Add light leaks and custom vignetting for a retro feel
Discover the magic of monochromatic photos with darkroom-inspired techniques
Signature presets dedicated to stunning b&w photo conversion
Add artistic touches with film intensity, grain, and fade
Easily convert your photos into artistic masterpieces
Create amazing painterly effects
Convert any image to unique street art
Transform your photos into realistic looking sketches
Personalize: draw, write, or doodle directly on your image
Decals & special effects add-ons make your photo unique
Add and customize text, borders, frames, and more!
Overlay two photos to produce a double exposure effect
Create photo montages for impressive surrealistic results
Seamlessly merge photos with various blending modes
Instantly repair under or over-exposed photos
Bring out lost details with a simple swipe
State-of-the-art noise reduction tool