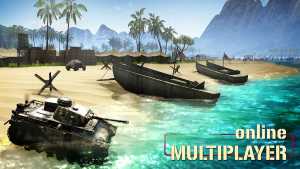 Battle Supremacy este un joc lansat in cursul noptii trecute in App Store, el fiind dezvoltat de catre creatorii celebreii serii de jocuri Sky Gamblers, promovata de catre Apple inclusiv intr-una dintre conferintele sale.
In clipul video de mai jos aveti prezentata functionalitatea titlului si vorbim practic despre un stil similar de gameplay, actiunea desfasurandu-se acum pe pamant si nu in aer.
In Battle Supremacy vom participa la bataliile desfasurate in al doilea razboi mondial, noi avand controlul asupra tancurilor care s-au intalnit pe campul de lupta din Europa.
UNLEASH THE FULL POWER OF YOUR IOS DEVICE IN BATTLE SUPREMACY, A WWII TANK GAME WITH THRILLING GAMEPLAY AND SHOWOFF-WORTHY VISUALS. EXPLORE A FULLY-INTERACTIVE OPEN WORLD NEVER BEFORE SEEN ON MOBILE DEVICES, AND DO IT BY LAND, AIR OR SEA. FEAST YOUR EYES ON AMAZING LANDSCAPES AND LANDMARKS: ENTIRE FORESTS TEEMING WITH WILDLIFE, SPRAWLING REAL-WORLD CITIES WITH TUNNELS AND BRIDGES, OVERRUN BY TANKS, TRAINS, WARSHIPS; THERE ARE EVEN FISH IN THE WATER! THE GAMEPLAY IS SO IMMERSIVE AND ENGAGING THAT DESTROYING A TARGET CAN FEEL LIKE WINNING THE BATTLE, BUT REALLY IT'S JUST THE BEGINNING…

THIS IS THE ULTIMATE WWII TANK COMBAT GAME AND SETS A NEW BAR FOR MOBILE GAMING! 

BOTH THE SINGLE PLAYER AND ONLINE MULTIPLAYER EXPERIENCES FEATURE INCREDIBLE GRAPHICS AND A STUNNING LEVEL OF DETAIL. UNLOCK HISTORICALLY ACCURATE TANKS AND TAKE PART IN EPIC WWII CAMPAIGNS ACROSS FRANCE, RUSSIA AND THE PACIFIC ISLANDS. LEAD YOUR TANK BRIGADE TO VICTORY IN OVER A DOZEN MISSIONS. UPGRADE VEHICLES, ADVANCE IN RANK AND FIGHT TOGETHER WITH YOUR BRIGADE IN THE MOST INTENSE ONLINE BATTLES YOU'VE EXPERIENCED. REALISTIC WEATHER AND VARIED ENVIRONMENTS, LIKE SNOWY MOUNTAINS, EUROPEAN FORESTS AND TROPICAL ISLANDS.
Battle Supremacy este prezentat ca unul dintre cele mai interesante jocuri lansate la inceputul acestui an si nu cred ca veti fi dezamagiti de el daca ii veti acorda o sansa.
Battle Supremacy este disponibil pentru DESCARCARE in format universal in App Store la un pret nu chiar atat de mic.