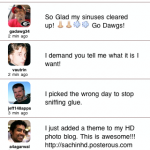 MotionObj, creatorii aplicatiei Simply Tweet 2.5.1, un update pentru versiunea Lite a aplicatiei. Simply Tweet mi este chiar atat de cunoscuta precum Twitterlator de exemplu insa este foarte ingenios creata, facand tweeting-ul extrem de usor. Aplicatia beneficiaza de tehnologia push, notificand utilizatorii in legatura cu orice mesaje sau mentionari pe Twitter. Versiunea Lite a aplicatiei este gratuita insa exclude unele functii cum ar fi push notifications, posibilitarea de a schimba temele sau de a cauta poze.
Iata cateva din noutatile aduse de Simply Tweet Lite 2.5.1 :
* Option to force refresh contact pickers
* Option to customize swipe menu buttons
* New swipe menu in account view
* New retweet option for swipe menu
* Performance improvements
Acum iata ce ofera varianta full :
* Push notifications for new mentions and direct messages
* Customized timelines with saved views (groups)
* Themes
* Import accounts from HootSuite
* Multiple accounts support, with quick switch support
* Landscape drafting
* Landscape built-in browser
* Text and URL shrinking
* Notes for accounts
* Photo search
* Updating of user profile including profile picture
Aplicatia full costa 4.99$ si poate fi cumparata de aici. Versiunea Lite poate fi downloadata gratuit de aici.