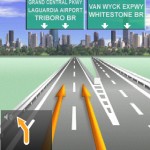 Odata cu venirea sarbatorilor si tinand cont ca suntem in plina criza, companiile producatoare de aplicatii pentru iPhone au scos oferte peste oferte in speranta de a creste vanzarile in cea mai darnica luna a anului. Dupa ce iGo si Tom Tom au redus preturile pentru aplicatiile lor, eliminand din harti desigur, a venit si randul celor din spatele aplicatiei Navigon sa faca reduceri, de data aceasta una destul de buna, versiunea aplicatiei pentru Europa de Est costa cum in AppStore 54.99€ insa numai pana pe 11 ianuarie 2010. Dar reducerea de pret a venit si cu o reducere a hartilor, in luna august aplicatia include acum harti insumand doar 590 de MB fata de versiunile anterioare, ceva mai scumpe, dar care insumau un total de aproape 1.2 GB de harti. Anyway, probabil majoritatea stiti ce poate Navigon, eu prefer iGo pentru Romania, mi se pare cea mai completa si exacta aplicatie de GPS pentru iPhone care in Romania are cea mai buna reprezentare a hartilor.
Aplicatia a ajuns acum la varianta 1.4 asa ca iata lista de features :
– Simple, intuitive user interface
– Can be used in portrait and landscape format
– Precise voice announcements
– Intelligent address entry
– Reality View Pro (realistic display of motorway interchanges and exits)
– Lane Assistant Pro
– Real signpost display
– Speed Assistant with adjustable audio-visual warning
– Day and night mode for map display
– Direct access and navigation to contacts saved in the iPhone's address book
– The latest NAVTEQ map material
– Navigation is automatically resumed after an incoming phone call
– 2D and 3D map displays (bird's-eye view)
– Quick access to user-defined POIs in the area and along the route
– Take Me Home function with a single click
– Automatic language selection to match the iPhone's user language
– Route Planning
– Text-to-Speech voice guidance
– Automatic Day/Night adjustment
– Integrated iPod control
– Location sharing via Email
– Google Local Search
– Coordinate Input
– SOS/DirectHelp
– Turn-by-Turn RouteList
– NAVIGON Traffic Live in A (In App Purchase)
Si acum noutatile aduse de versiunea 1.4 :
– Enhanced Pedestrian Navigation
– Google Local Search
– Coordinate Input
Daca va intereseaza aplicatia o puteti cumpara pentru 54.99€ din RO AppStore de aici.