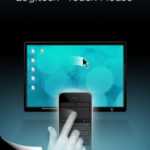 Touch Mouse este o aplicatie pentru iPhone/iPod Touch lansata de Logitech care da posibilitatea utilizatorilor sa foloseasca ecranul telefonului pe post de touchpad pentru a controla miscarile cursorului pe ecranul PC-ului.
Aplicatii de genul asta mai exista insa niciuna de la un producator de hardware pentru PC/laptops precum e Logitech si niciuna gratuita, da, ati auzit bine, Touch Mouse este absolut gratuita! Aplicatia instalata pe iPhone/iPod Touch este acompaniata de inca un program care se instaleaza in PC/Mac, utilizatorii trebuind sa se conecteze la calculator prin intermediul WiFi.
Touch Mouse este foarte usor de folosit, dupa cum veti vedea in video-ul de mai jos, este compatibila cu Windows XP/Vista/7 si cu Mac OSX. Iata lista de features :
– Multi-touch trackpad with option for two or three buttons
– Two-finger scrolling
– Keyboard with modifier keys
– On-screen text display while typing
– Show or hide the keyboard at any time
– Trackpad and keyboard are available in landscape and portrait modes
Cei interesati pot downloada gratuit Touch Mouse pentru iPhone/iPod Touch din AppStore de aici si programul pentru calculator de aici selectand sistemul de operare dorit.
[youtube]http://www.youtube.com/watch?v=Wh2rq2UvijI[/youtube]