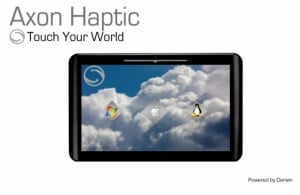 Axon Haptic a facut o tableta dotata cu ecran touchscreen capabila sa ruleze sistemul de operare Mac OSX al celor de la Apple. Practic Axon incearca sa ofere utilizatorilor ceea ce Apple nu a oferit la lansarea tabletei iPad, adica o tableta capabila sa ruleze Mac OSX si nu iOS. Tableta aceasta nu e facuta special pentru cei care vor sa instaleze Mac, ba din contra producatorul se lauda ca functioneaza si cu Windows/Linux insa are componentele "special" alese pentru a functiona cu OS-ul Darwin, plus o partitie EFI pentru a instala Mac OSX.
Besides using only quality components, they are specifically chosen to be compatible with Darwin. That gives you the freedom to run, in addition to Windows and Linux, any* Darwin OS. Darwin and all of its required components such as the mach_kernel and kexts are on an EFI partition to make it effortless to install your favorite XNU/Darwin OS. Just pop in the disk, and follow the directions.
Tableta e destul de potenta din punct de vedere hardware, avand :
un procesor de 1.6GHz Atom N270;
memorie RAM de 2GB;
ecran touchscreen de 10-inch cu rezolutie de 1,024-x-600;
un hard distk de 320GB;
webcam de 1.3 megapixeli;
baterie ce poate fi schimbata;
WiFi;
Boxe;
3 porutri USB, jack pentru casti, microfon, Bluetooth, port Ethernet, port VGA si cititor de carduri.
Totusi singura metoda de a instala Mac OSX pe aceasta tableta este printr-o copie Hacktinosh a Mac OSX. Tableta costa 750$ si este disponibila, deocamdata, la precomanda aici.