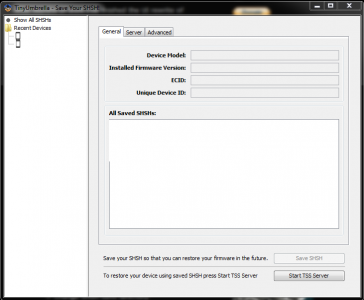 In cursul acestei seri a fost lansata o noua versiune a celeburlui program de salvat SHSH-uri : TinyUmbrella. Noua versiune vine cu o interfata complet refacuta, mult mai usor de folosit si cu mult mai multe optiuni utile pentur noi. In primul rand avem in meniul din stanga informatii despre terminalele conectate de-a lungul timpului la PC, ce versiune de iOS/baseband aveau si ce SHSH-uri sunt salvate pentru ele. In al doilea rand avem meniul principal in care sunt afisate toate aceste informatii, dar avem totodata inca 2 optiuni pentru utilizarea TSS server-ului din TinyUmbrella plus un meniu cu setari pentru salvarea SHSH-urilor.
Iata toata noutatile din TinyUmbrella 4.1.8 :
Totally redesigned UI for all platforms (inspired by chpwn refined by me)

Original artwork by iOPK of Chronic Dev Team
Spinny Icon code (thanks to technomage)
Quaqua look and feel (sorry mac only due to license restrictions)
Much cleaner look and feel all around

Known Devices!

Now all devices detected by TinyUmbrella are saved for future use!
You can remove them as well 🙂 (Right click -> delete from history)
You can save SHSH with known devices as well (No more requirement for the device to be connected)

Recovery Devices

If you connect a device in recovery mode you can still kick it out of recovery (Right click -> Kick out of recovery)

Save SHSH now saves ALL SHSHs available at Cydia with one button press!
Preferences

Change SHSH save directory

Proxies (Web and Socks) for those that need them!
Better port 80 detection.
Aplicatia este gratuita si o puteti descarca de aici : Windows, Linux, Mac OS X.