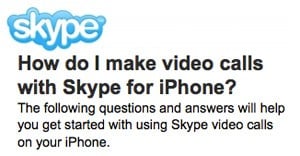 Un document aparut pe site-ul Skype indica faptul ca foarte curand compania va introduce un nou serviciu ce va permite apelurile video de pe terminalele iPhone. Skype va introduce un serviciu care va permite initierea de apeluri video intre iPhone/iPod Touch-uri dar si intre iDevice-uri si desktop-uri cu Skype instalat. Practic Skype va aduce oamenilor un fel de FaceTime care insa va functiona din start cu majoritatea terminalelor, va functiona si pe Windows dar si pe conexiuni 3G/Wi-Fi.
Totusi cei de la Skype ar putea face fi primii care ar aduce apelurile video intre iOS/Android/Symbian/Windows Phone 7 insa asta vom vedea luna viitoare la CES 2011 cand este programata lansarea acestui serviciu.
How do I make video calls with Skype for iPhone?

The following questions and answers will help you get started with using Skype video calls on your iPhone.

To make video calls with your contacts, you will need an iPhone 4, iPhone 3GS, 3rd generation iPod touch, 4th generation iPod touch or an iPad. Your contacts will only be able to see you if your device has a camera. Make sure your device is running iOS 4.0 or above and that you are using Skype for iPhone 3.0 or above.

The contacts you are calling must be using one of the following Skype clients:

* Skype for Windows version 4.2 and above

* Skype for Mac OS X version 2.8 and above

* Skype for iPhone 3.0 and above

You can make Skype video calls by using a WiFi or 3G connection*. The quality of the video will depend upon the available network conditions.

*Additional data charges may apply. Check with your operator for details.

If you have an iPhone or iPod touch with two cameras – front and rear – you will be able to switch between them during a Skype video call. If you have an iPhone 3GS it will always use the rear camera.

If you turn your device into landscape mode, the camera picture will automatically rotate.

In both portrait and landscape mode double tapping anywhere on your screen will zoom the picture to take up the full extent of the screen. Double tapping again will take the picture back to its normal size.

While on a Skype video call the sound will always be played through the loudspeaker, unless a headset is plugged into the device.

During a video call tap your screen to display the camera and microphone controls. Tap and hold down the microphone button to put the call on hold. To resume the call, simply tap thehold symbol on the screen.

Yes, at any time during a Skype video call you can choose to turn off the video. Tap the Camera button and select the No CameraCamera button again and then tap the camera you want to switch on. option. To turn the video back on tap the

When your iPhone is processing a lot of video its CPU (Central Processing Unit) has to work very hard and makes the iPhone become warm to the touch. You will experience the same thing if you stream videos through applications like Netflix or YouTube.

Yes, you will be able to receive screen shares from people using Skype for Windows or Mac OSX. You cannot share what is on the screen of your iPhone with other people and you cannot receive a screen share from another iPhone user.

No, you will be switched to audio only, as Skype for iPhone does not support group video calling.

The quality of the video you send and receive from your iPhone will depend upon the quality and bandwidth available on the WiFi or 3G network you are connected to. For best results, make sure you have nothing else running that might use up your bandwidth.