[youtube]http://www.youtube.com/watch?v=kTKPMdl2Kwg[/youtube]
In cursul serii trecute Apple a lansat Mac OS X Developer preview 3 si Xcode 4.1 Developer Preview 5 pentru toti dezvoltatorii de aplicatii pentru Mac OS X. La sfarsitul lunii aprilie Apple a lansat Mac OS X Lion Developer preview 2 si Xcode 4.1 Developer Preview 4 iar noile versiuni lansate astazi sunt recomandate tuturor dezvoltatorilor deoarece rezolva o buna parte dintre bugurile versiunilor anterioare. Pe langa bug fixes noile versiuni au si cateva noutati importante in ceea ce priveste functionalitate si design-ul sistemului de operare. Desigur ca aceste 2 update-uri sunt disponibile doar pentru dezvoltatorii de aplicatii pentru Mac OS X.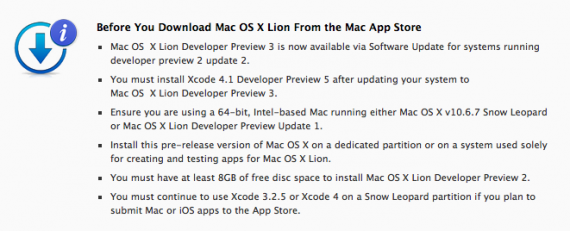 Iata tot ce aduce nou aceasta versiune a Mac OS X Lion :
New options in System Preferences>Mission Control
There is a new animation when logging into the computer and displaying the desktop (seems buggy at this time)
New Reminders menu in iCal
New next desktop button in Dashboard space:
New options when right-clicking (this appears to be buggy at this time):
Compatibility to external displays has been improved (especially in Mission Control)
There is now a Mission Control app
Finders toolbar has been slightly updated:
Desktop wallpapers have been updated (and new ones have been added);
Reading List has been enabled in Safari:
New changes in Mission Control: can add desktops right from Mission Control by clicking + button, close spaces from Mission Control, Mission Control no longer displaying text Desktop 1? etc., when hovering over desktop thumbnails, magnification of thumbnails are seen
Scrollbars now change color depending on the background (black background=light scrollbar and vice versa).
Iata si cateva imagini cu schimbarile aduse interfatei dar si cateva wallpapere introduse de Apple.