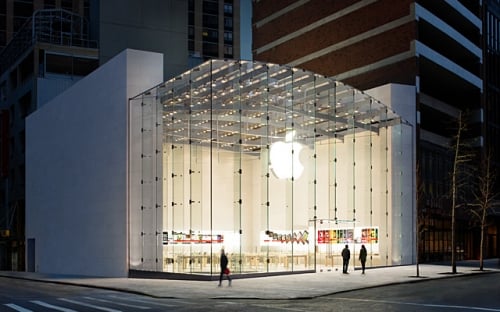 Un incident nu prea placut a avut loc intr-un magazin Apple din New York unde 2 angajati ai companiei au refuzat sa le ofere acces un magazin unor tineri afro-americani. Aparent clientii au fost discriminati de catre 2 angajati mult prea zelosi care nu le-au permis sa intre in magazin, ba mai mult le-au si spus cat se poate de direct ca ii discrimineaza. Tinerii sustin ca nu li s-a oferit nici macar posibilitatea de a cumpara ceva, angajatii spunandu-le ca persoane ca ei nu au ce cauta in respectivul magazin Apple si i-au indepartat de magazin.
Plaintiffs Brian Johnston, 34, and Nile Charles, 25, have accused Apple of discrimination after an incident they claim occurred on Dec. 9, 2010. Both Johnston and Charles went to the store at 1981 Broadway when the incident allegedly began with an Apple employee, said to be white and in his 50s.

The lawsuit notes that Charles and Johnston, who are black, went to the Broadway Apple store wearing "baggy jeans and large sweaters with hoods" to purchase headphones. It was around 3:20 p.m., they claim, that the Apple employee, about 6-foot-2 and 225 pounds, confronted them.

And before you say I'm racially discriminating against you, let me stop you. I am discriminating against you," the lawsuit claims the employee said. "I don't want 'your kind' hanging out in the store.

In order to further harass, degrade, humiliate, and discriminate against Plaintiffs, the manager asked Defendant's Head of Security to call 911," the complaint reads. "Defendant interfered with Plaintiffs right to purchase personal property because of their race.
Tinerii au incercat sa discute cu unul dintre managerii magazinului insa au fost tratati in exact acelasi mod. Acum cred ca problema e modul in care aratau respectivele persoane pentru ca imi vine foarte greu sa cred ca atatia angajati ai Apple i-au refuzat fara motiv. E interesant cum se va sfarsi acest proces si daca Apple va lua vreo masura impotriva acestor angajati insa mi se pare ca actiunea de chemare in judecata e defapt o incercare de a scoate niste bani de la Apple.