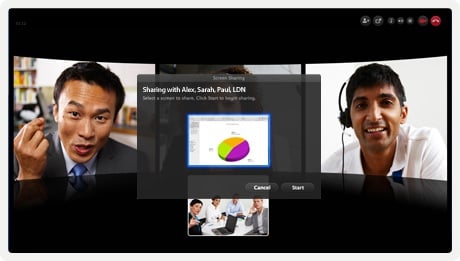 Astazi Skype a lansat versiunea 5.2 a celebrei aplicatii pentru Mac OS X. Noua versiune a aplicatiei aduce cateva functii interesante precum video screen sharing dar si un design refacut al barei de apeluri care acum permite si efectuarea de apeluri video. Cei de la Skype au hotarat sa includa si functiile screen sharing/document sharing care erau disponibile deja in versiunea pentru Windows insa deocamdata integrarea suportului pentru FaceBook ramane exclusiv pentru utilizatorii platformei Windows.
Need to switch to another app during a video call? No problem. You'll see the person you're talking with in a mini-window that floats on top of any files or applications you have open. Mute, end the call, and double click on the window to return to Skype. Just swipe the trackpad with three fingers to switch between different conversations.
Skype 5.2 pentru Mac OS X poate fi descarcat de aici. Maine este programat un anunt al Facebook in care se presupune ca va fi prezentata integrarea acestui serviciu intr-o noua functie lansata de celebrul site de socializare. Tot maine este asteptata si versiunea pentru iPad a Skype insa deocamdata nu exista nici un indiciu solid care sa sustina acest zvon.