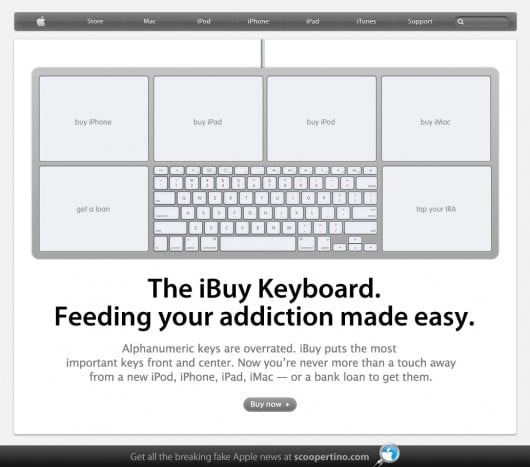 Scoopertino a facut un foarte "frumos" mockup al unei tastaturi Apple numita iBuy care ajuta utilizatorii sa cumpere produse Apple foarte simplu si usor. Tastatura este dotata cu anumite taste care odata ce sunt apsate va rezerva un anumit produs Apple care a doua zi va fi livrat la usa voastra. Nu trebuie sa selectati un model anume al produsului pentru ca "specialistii" Apple aleg unui pentru voi deci tot ce trebuie sa faceti este sa apasati pe un buton si sa asteptati. Daca nu aveti bani nu trebuie sa va temeti deoarece exista un buton si pentru aceasta problema iar de indata ce il apasati primiti un imprumut care va ajuta sa cumparati orice produs Apple, indiferent de pret.
Desigur ca totul este doar o gluma "tragi-comica" insa pentru unii fani Apple se potriveste.
Thanks to Radu M.
Cupertino, CA — Can't spend your hard-earned cash fast enough?

There's a keyboard for that.

Today Apple introduced the revolutionary iBuy Keyboard, which literally puts new Apple purchases at your fingertips.

iBuy provides new, hard-to-miss keys that instantly send Buy commands to the Apple Store. Just touch the key for iPhone, iPad, iPod or iMac, and a new device will be shipped to your home via overnight delivery. No need to even select a model — Apple's staff of experts will do that for you.

Amazingly, the iBuy Keyboard is no larger than the previous Apple Keyboard. To accommodate the Buy keys, Apple has reduced the size of lesser important keys — namely, the letters and numbers.

In its press release, Apple notes that the iBuy Keyboard is a reflection of its customers' changing priorities.

"We get thousands of emails from customers every day," explains Apple spokesperson Craig Henneman. "Most are interested in new Apple devices. Very few express an interest in alphanumeric keys."

The iBuy Keyboard effectively ends the age-old debate about QWERTY vs. Dvorak keyboard layouts. "Who cares where the letters are located when it's so easy to buy a new iPad?" says Henneman.

When a Buy key is pressed, the transaction is instant. There's not even a confirmation screen. So you can literally buy an Apple device while composing an email, enhancing a photo or building a spreadsheet — without a moment's distraction.

The iBuy keyboard, however, is not without its downsides.

Edith Winestock, a Kansas City widow, reportedly received 16 iPods, 32 iPads, 22 iPhones and 16 iMacs, thanks to the frequent key-presses performed by her cat, Jingles. Apple accepted the returns, charging only a 15% restocking fee.