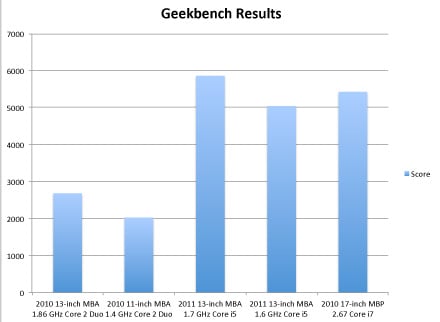 Astazi Apple a lansat cateva modele noi ale MacBook Air, toate dotate cu noile procesoare Intel construite pe platforma Sandy Bridge. Cei de la Macworld s-au gandit sa faca anumite teste cu noile MacBook Air-uri si au descoperit ca modelul cel mai puternic dotat cu procesor de 1.7 Ghz are putere de procesare mai mare decat cel mai puternic model MacBook Pro din 2010. Testele au fost facute utilizand aplicatia Geekbench si Air-ul din 2011 cu i5 dual-core la 1.7 Ghz a obsinut rezultate usor mai bine decat MacBook Pro 2010 de 17 inch cu i7 la 2.67 Ghz.
We've been anxiously sifting through the Geekbench results browser all morning, hoping and praying that a kind soul would benchmark the new 11 or 13-inch MacBook Air. Our prayers were answered by Laptop magazine, whose report confirmed our suspicions. The new 13-inch MacBook Air earned a Geekbench score of 5860, a bump in performance of over 100 percent compared to last year's model. The 11-inch MacBook Air was even more impressive, skyrocketing from 2024 to 5040 for 149 percent increase.
In ceea ce priveste cresterea de performanta inregistrata de Air-uri, modelul de 13 inch a inregistrat o crestere de performanta de 100% fata de modelul din 2010 iar modelul de 11 inch a inregistrat o crestere de 149% fara de modelul din 2010. Practic MacBook Air 2011 de 11.6 inch cu procesor Intel i5 la 1.6 Ghz obtine rezultate usor mai slabe decat un MacBook Pro 2010 cu procesor i7 la 2.67 Ghz care a fost de aproape 3 ori mai scump. Ceea ce a reusit Apple este intr-adevar fenomenal insa testele sintetice nu releva intotdeauna performantele din lumea reala asa ca ramane de vazut cat de bine se descurca noile MacBook Air.