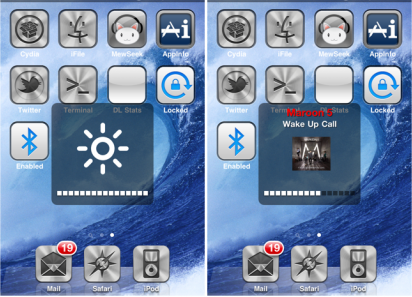 Un HUD sau heads up display este o animatie din iOS care apare atunci cand modificam nivelul volumului terminalului, cand modificam setarile pentru luminozitate, etc. Acest HUD poate fi modificat exact precum orice alt meniu din iOS folosind tweak-uri disponibile in Cydia. HUD Control Plus este unul dintre aceste tweak-uri si folosindu-l putem modifica felul in care sunt afisate informatiile in HUD-urile din iOS. Putem modifica scrisul care apare in HUD, putem modifica si culoarea sa dar desigur ca avem si optiunea de a modifica imaginea care apare in mijloc-ul HUD-ului. Practic putem modifica tot in afara de bara care se completeaza cand apsam butonul de volum, de exemplu.
Iata tot ce putem modifica folosind HUD Control Plus :
Inserting a custom HUD;
Customizing the color of your own title;
Inserting a custom HUD subtitle;
Customizing the custom color of the subtitle;
Viewing the artwork and the name of the song playing;
Management of the brightness with the volume keys;
Display of HUD;
Enabling transparent HUD;
Pe langa aceste optiuni, HUD Control Plus ne afiseaza in HUD si denumirea melodiei care ruleaza in aplicatia iPod insa desigur ca trebuie sa facem un double tap pe HUD pentru acest lucru. HUD Control Plus este disponibil pentru 1$ in Cydia in repo-ul BigBoss.