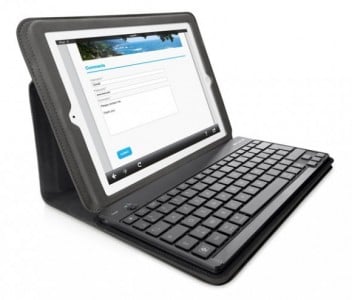 Astazi Belkin a anuntat lansarea Keyboard Folio for iPad 2 o noua husa cu tastatura pentru tableta iPad 2. Accesoriul celebrei companii Belkin aduce pentru iPad 2 o husa ce are incorporata o tastatura fizica, ce se conecteaza la iPad prin intermediul Bluetooth si permite scrierea cu usurinta in orice aplicatie. Cei de la Belkin se lauda ca tastatura implementata de ei ofera o experienta asemanatoare tastaturilor fizice pentru calculatoare desi vorbim despre un model slim.
Iata caracteristicile noului produs :
Premium suede-like feel with stitching
TruType™ keys for comfortable typing
Tri-fold design tucks keyboard away to keep screen protected
Adjustable angles for viewing and typing
Rigid backplate for stand stability
Bluetooth connection avoids messy cables
60-hour active battery life
Micro USB port for charging works with standard cables
Compatible with iPad 2
Cei de la Belkin incearca sa atraga o parte din clientela business si nu numai cu noua lor husa insa multi prefera tastatura virtuala din ios in locul uneia fizice. Husa celor de la Belkin costa 99$, un pret destul de mare pentru un asemenea produs.