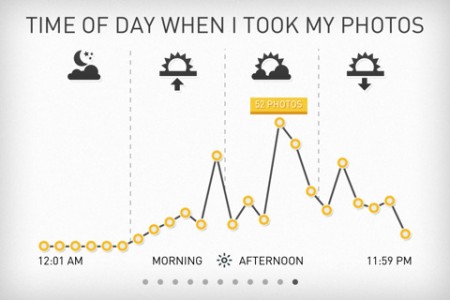 Photo Stats este o noua aplicatie disponibila pentru iDevice-uri care "spune" utilizatorilor cand si cum fac poze cu iDevice-urile lor. Terminalele noastre sunt capabile sa inregistreze informatii despre data si locatia unde au fost facute pozele noastre insa respectivele informatii pot fi vazute doar dupa copierea pozelor intr-un calculator/laptop… pana acum. Aplicatia Photo Stats ofera posesorilor de iDevice-uri informatii despre felul in care fac pozele dar si locatiile in care fac pozele iar totul este afisat sunt forma unor infografice detaliate.
     Iata cateva caracteristici ale aplicatiei Photo Stats :
What were the most interesting places where you took your photos,
Whether you are a night-life photographer or you prefer afternoon/morning to take your photos,
What were your most productive photo-taking days and months,
And a lot other technical things about your photos (ISO, shutter speed, flash) which will help you make better photos.
    Aplicatia este foarte simpla si cu ajutorul unei singure apasari a unui buton face automat infograficele pentru utilizatori. Desigur ca aceste infografice pot fi copiate inr-un calculator sau pot fi partajate pe o retea de socializare asa ca le puteti arata si altora informatii despre tabieturile voastre. Photo Stats este compatibila cu iPhone/iPod Touch.
Nume:
Photo Stats – infographic creator for your iPhone photos
---
Developer: Dear Future Astro…
Categoria: Photography
Descriere: The first infographic creator for iPhone is finally available at the App Store.
Create cool infographics about how, when and where you take photos on iPhone. Visualize your iPhoneography habits, learn how to make better photos and show off photo skills …
Dimensiunea aplicatiei este: 7.7 Mb
---