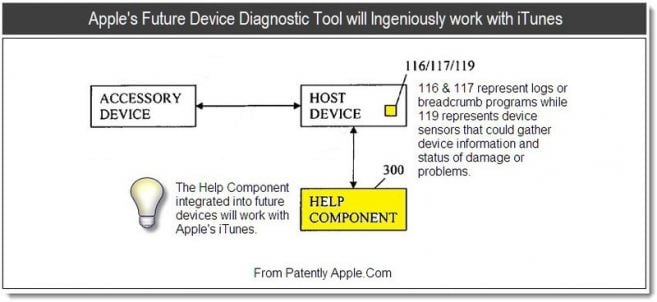 Ieri vorbeam despre un sistem online de diagnosticare a problemelor iDevice-urilor pe care Apple ar urma sa il lanseze in viitorul apropiat si la cateva ore dupa publicarea informatiilor despre el au aparut altele despre un brevet de inventie inregistrat companiei Apple pentru acelasi gen de tehnologie. Sistemul brevetat companiei Apple functioneaza offline, prin iTunes, si analizeaza loguri pentru update-uri de firmware, pentru locatiile in care a fost folosit terminalul, pentru diverse "evenimente" in care acesta a fost implicat plus multe multe altele.
The log may be generated periodically (e.g., every 5 milliseconds, every 30 minutes, every 5 hours, after every reset, or at any other time based or event based or environment based event occurs). Each generated log may be stored on the Apple device or uploaded to a remote entity, and each log may be retained or overwritten by a more recently generated log depending on available storage space and/or processing capabilities, for example.
      Acum trebuie notat faptul ca terminalul va contine loguri despre locatii, evenimente(inregistrarea de poze/filme, etc) plus alte informatii confidentiale pe care voi nu vreti sa le impartasiti cu Apple. Compania sustine ca logurile vor reflecta doar informatii relevante care vor ajuta la diagnosticarea eventualelor probleme ale dispozitivului si nimic mai mult. Desigur ca Apple poate sa declare orice insa in realitate sa faca lucruri complet diferite. Sistemul este deocamdata doar in stadiul de brevet si cred ca va trece destul de mult timp pana il vom vedea implementat in vreun dispozitiv ori in iTunes.