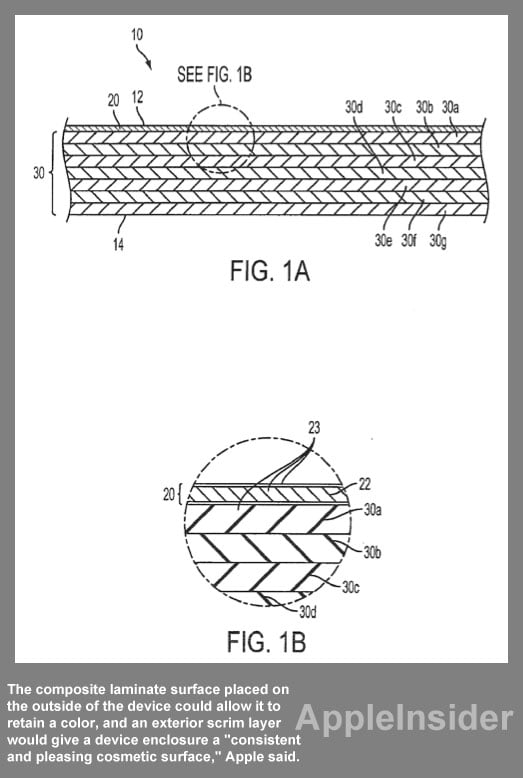 Anul acesta companiei Apple i-au fost inregistrate foarte multe de brevete de inventie pentru diverse tehnologii iar cei de la AppleInsider au descoperit unul nou care prezinta intentiile companiei din Cupertino de a construi un dispozitiv ce va avea carcasa din fibra de carbon ori fibra de sticla. Apple a conceput un design care presupune turnarea mai multor straturi de fibra de carbon pentru a forma o carcasa pentru MacBook-uri ori iDevice-uri, o carcasa foarte rezistenta la lovituri insa o carcasa care sa poata fi colorata in functie de preferintele utilizatorilor.
The application notes that carbon fiber composites offer many benefits, as they can serve as a strong, lightweight housing for electronic equipment. But carbon fiber composites are also typically black, and the fibers themselves are usually visible on the surface of the device. Additionally, Apple said the fibers of such material are usually variable in construction, offering a varied appearance on the surface. As a result, carbon fiber can feature cosmetic imperfections that would reduce the aesthetic appearance of a device.
     Carcasele din fibra de carbon sunt mult mai usoare decat cele din aluminiu care sunt folosite in actualele MacBook-uri si ar oferi un avantaj enorm pentru linia de produse a companiei Apple. De ani de zile se tot zvoneste ca Apple ar putea face trecerea la carcase din fibra de carbon iar oferirea unor MacBook-uri divers colorate ar atrage cu siguranta mult mai multi utilizatori. Parerea mea este ca o asemenea tehnologie este inca departe de a fi implementata in MacBook-uri sau iDevice-uri, Apple preferand sa foloseasca materiale mai rezistente si mai placute la atingere/din punct de vedere vizual.