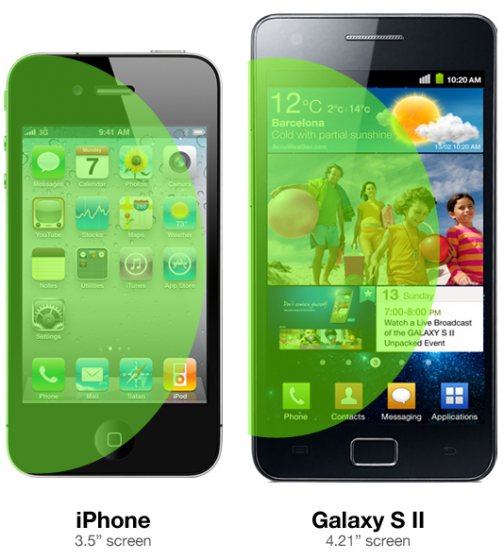 Trebuie sa recunosc faptul ca mi-as fi dorit ca iPhone 4S sa aiba une cran de 4 inch care din punctul meu de vedere ar fi fost perfect si ar fi reprezentat o evolutie logica a terminalelor companiei Apple. Din pacate acest lucru nu s-a intamplat insa pastrarea aceluiasi ecran de 3.5 inch ar putea fi o decizie foarte buna pentru compania din Cupertino. Ecranul de 3.5 inch ofera utilizatorului posibilitatea de a accesa intregul ecran al dispozitivului folosind degetele unei singure maini iar imaginea de mai sus ne prezinta distanta pana la care putem ajunge folosind degetul opozabil al mainii cu care tinem terminalul in mana.
Touching the upper right corner of the screen on the Galaxy S II using one hand, with its 4.27-inch screen, while you're walking down the street looking at Google Maps, is extremely difficult and frustrating. I pulled out my iPhone 4 to do a quick test, and it turns out that when you hold the iPhone in your left hand and articulate your thumb, you can reach almost exactly to the other side of the screen. This means it's easy to touch any area of the screen while holding the phone in one hand, with your thumb. It is almost impossible to do this on the Galaxy S II.
     Practic totul se reduce la utilitate si imi place ca la iPhone pot accesa intreg ecranul folosind o singura mana, lucru pe care nu il puteam face la Samsung Galaxy S II care este mult mult mai mare. Apple pune accent pe utilitate si un terminal cu ecran de 4 inch sau mai mare devine ar deveni inutil pentru o parte dintre cei care au nevoie sa foloseasca dispozitivul cu o singura mana. Samsung Galaxy S II poate fi utilizat cu o singura mana doar pana la un anumit punct, mai exact pana in punctul in care ai nevoie de ceva care se afla in coltul opus al ecranului si atunci trebuie sa folosesti doua maini sau sa devii inventiv.
     Chiar si asa, cred ca un ecran de 4 inch mi-ar fi fost util si mi-ar fi fost mult mai facil sa ajung la marginile aceluia mult mai usor decat in cazul unui ecran de 4.3, 4.7 sau chiar 5.3 inch cat are "monstrul" pe care Samsung se pregateasca sa il lanseze pe piata.