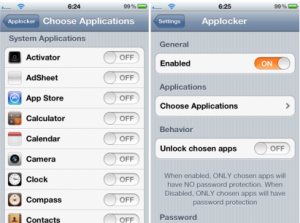 AppLocker este un tweak lansat in cursul acestei zile in Cydia iar cu ajutorul sau putem proteja aplicatiile instalate pe terminalul nostru. AppLocker este o alternativa ieftina pentru alte tweak-uri de acelasi gen, tweak-uri care nu functioneaza intotdeauna chiar atat de bine precum le promoveaza dezvoltatorii lor. AppLocker este simplu de utilizat: din meniul Settings al iOS alegem o serie de aplicatii pentru care nu trebuie sa introducem o parola pentru a utiliza, urmand ca restul celor disponibile in terminal sa poata fi deschise doar cu parola. Alternativ putem selecta doar cateva aplicatii care trebuie deschide cu parola urmand ca restul aplicatiilor sa poata fi deschise fara introducerea unei parole.
Is this yet another expensive, hard to use or not even working app locking solution? NOPE. Chuck Testa. Applocker is by far the most simple and easy to use app locking solution. Also it's just 99¢! Applocker also locks launching apps from the task switcher (even compatible with SwitcherPlus!). You can choose specific apps so only those will be locked or only those will be unlocked.
    AppLocker este disponibil in Cydia pentru 0.99$ in repo-ul ModMyi si este compatibil atat cu iOS 4 cat si cu iOS 5.