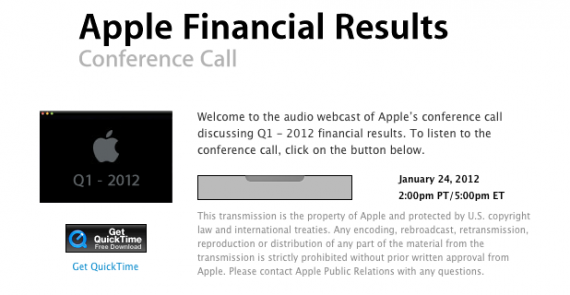 Acum cateva minute compania Apple a publicat un comunicat de presa in care a anuntat vanzari, incasari si profit record inregistrate in ultimele trei luni ale anului trecut. In primul trimestru fiscal al anului 2012 Apple a vandut 37.04 milioane de terminale iPhone, 15.43 milioane de tablete iPad, 5.2 milioane de Mac-uri si 15.4 milioane de iPod-uri pentru incasari 46.33 de miliarde de dolari si profit net de 13.06 miliarde de dolari. In ultimul trimestru fiscal al anului 2011 Apple a stabilit recorduri din toate punctele de vedere si asta in ciuda faptului ca legendarul sau CEO a decedat cu putin timp inaintea lansarii celui mai popular gadget al sau.
   In cateva minute Tim Cook si alti vicepresedinti ai Apple vor tine o conferinta audio in care vor vorbi despre rezultatele financiare ale ultimului trimestru fiscal si ne vor spune ceea ce are compania pregatit pentru viitor.
Apple added an extra 14th week to the quarter, which helped its results. Apple made as much in Q1 2012 as it did in half of 2011 total.
Average weekly Mac sales were up throughout the quarter, and international Mac sales were up 58 percent. MacBook Pro and MacBook Air were strong, as was the iMac.
The iTunes Store did $1.7b in revenue in the quarter, as it expanded throughout the world. Over 20m songs in the store. $120m worth of downloads in apps and music sold on December 25th alone.
iPhone 4S has popularity is "tremendous," but all iPhone models experienced a growth in sales.
iPhone handset and accessory sales accounted for $24.4b in revenue, up 133 percent.
140 million App Store downloads in Christmas day alone.
More than 62m iOS devices sold in the quarter.
By the end of the month, devs will have earned over $4b from the App Store.
$6.1B in revenue from retail stores. New records for iPhone, Mac, and iPad sales.
110m visitors to the Apple retail stores — 22k visitors per store, per week.
Stores sold 1.1m Macs, and half the Macs were sold to people who'd never owned a Mac before. (As usual.)
315 million cumulative iOS sales.
85 million iCloud customers
4 new stores opened in the quarter, Apple now has 361 stores.
Apple now has $97.6b in cash, compared to $81b last quarter. Apple is actively looking at uses for the cash, but "we're not letting it burn a hole in our pockets."
$64 billion in cash is off shore.
We were thrilled with the 37m iPhones we sold. This is substantially above our 20m unit previous record. We would attribute it to a phenomenal customer reception. We made a very bold bet on demand, and it turns out we were short of supply throughout the quarter and ended with a significant backlog. We're still short in key geographies.
People were anticipating a new iPhone. I think we made the right decision to go with a broad range of iPhones. I think the 14th week was a big part of this, but everyone knew that.
articol in continua actualizare.