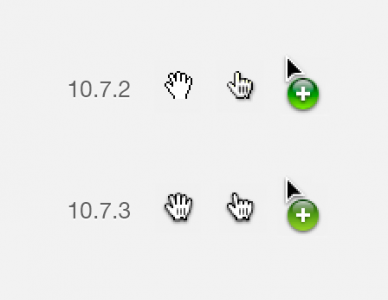 Pe langa modificarile de suprafata se pare ca noul Mac OS X 10.7.3 contine si alte cateva modificari subtile care au legatura cu UI-ul sistemului de operare. Apple pare sa fi modificat design-ul unor elemente ale interfatei de utilizator insa le-a schimbat in acelasi timp si modul de scalare astfel ca acum acesta sunt pregatite pentru ecrane de rezolutie mare cunoscute generic HiDPI. Practic vorbim despre includerea unor elemente de UI care teoretic nu ar trebui sa fie acolo decat daca Apple ar pregati lansarea unor Mac-uri echipate cu ecrane Retina, lucru deloc imposibil de crezut in momentul de fata.
Have you noticed that Safari's hovering-over-a-link pointing-finger cursor looks a little different in Mac OS X 10.7.3? It's not just that the finger is at a slightly different angle — it's a new UI resource that scales gracefully to larger sizes. That's not the only new high-DPI image resource in 10.7.3: the grabby hand in Mail, the camera cursor for selecting an individual window to take a screenshot of, and a few other UI elements got the high-DPI treatment in 10.7.3. The simplest explanation is that Apple only just now got around to increasing the resolution of these elements for the benefit of users who use the cursor-zooming Universal Access feature. But, combined with the fact that some people with Mac Minis connected to TVs via HDMI are reporting that after upgrading to 10.7.3, their system rebooted in HiDPI mode, I can't help but wonder whether we may be on the cusp of Apple releasing HiDPI Mac displays and/or HiDPI MacBooks. I.e.: retina display Macs.
  Pe langa elementele de UI, se pare ca unii posesori de Mac Mini care folosesc ecrane de rezolutie mare au observat ca dupa instalarea Mac OS X 10.7.3 Mac-urile lor au pornit in HiDPI mode ceea ce sugereaza ca Apple a imbunatatit semnificativ suportul pentru asemenea rezolutii. Unii speculeaza ca Apple ar fi incercat doar sa imbunatateasca functia Accessibility care contine optiunea de a mari unele elemente de UI insa nu trebuie data la o parte nici ideea lansarii unor Mac-uri cu ecrane Retina. Daca iPad 3 va veni cu un asemenea ecran atunci este foarte posibil ca si Mac-urile sa aiba unul pregatit chiar daca el nu va fi disponibil imediat dupa lansarea iPad 3.