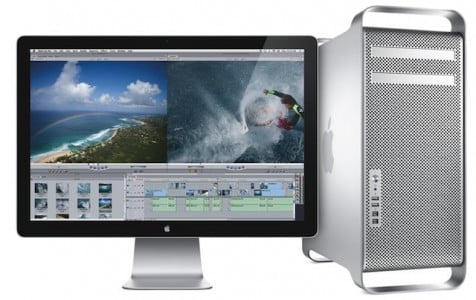 Inca de pe la jumatatea anului trecut s-a zvonit ca Apple ar putea lansa un nou model al Mac Pro insa iata ca acest lucru s-ar putea intampla abia anul acesta. Compania ar fi colaborat indeaproape cu Intel pentru noile Mac-uri si acestea ar urma sa includa procesoarele construite de Intel folosind paltforma Ivy Bridge. Lansarea noului model al Mac Pro ar fi fost amanata din cauza problemelor pe care Apple le-a avut cu supraincalzirea componentelor interne insa noile procesoare ar fi ferite de asa ceva iar Mac Pro 2012 ar putea fi disponibil in viitorul apropiat. Aceste procesoare ar urma sa vina cu 8 nuclee si 20 de MB de cache deci vor oferi performante mult mai bune decat cele disponibile in prezent in magazinele Apple.
Well, we have some good news, Intel will be moving to its Ivy Bridge platform in April, and this will solve heating issues. How does it do that? Well, with its 22nm (extremely efficient) manufacturing process, it is very efficient in operation in comparison to the previous Sandy Bridge. More importantly, the old transistor types are gone, and replaced by "tri-gate" transistors. According to our sources, those transistors are 30%+ more efficient with heat dissipation.
  Pe langa noile procesoare din seria Ivy Bridge, Apple pare sa fi incheiat un parteneriat cu Nvidia pentru implementarea placilor grafice construite folosind platforma Kepler. Renuntarea la partenerul traditional ATI vine dupa ce foarte multi posesori de Mac Pro-uri au avut probleme cu "artefacte", supraincalzairea placii grafice, inchiderea conexiunii video catre ecran plus multe multe altele. Cand vor fi disponibile noile Mac-uri? Prin al treilea trimestru fiscal al anului 2012, adica in perioada in care ar urma sa fie lansat si iPhone 5.