[youtube]http://www.youtube.com/watch?v=BqwcRUs7VWY[/youtube]
Avand peste 100 de milioane de utilizatori abonati la serviciul iCloud, Apple va imbunatati suportul serviciului sau in OS X Mountain Lion. Acum utilizatorii vor avea posibilitatea de a face un cont iCloud sau de a se loga la iCloud chiar dupa instalarea sistemului de operare OS X Mountain Lion. Documentele vor putea fi partajare cu o mult mai mare usurinta intre iDevice-uri si Mac-uri iar in mare noul sistem de operare ar trebui sa usureze intearctiunea utilizatorilor cu iCloud.
It just works. In more ways than ever. In OS X Mountain Lion, sign in once with your Apple ID and iCloud is automatically set up across your Mac.1 That means right away iCloud keeps your mail, calendars, contacts, documents, and more up to date on every device you use. So when you add, delete, or edit something on your Mac, it happens on your iPad, iPhone, and iPod touch. And vice versa.
In OS X Mountain Lion Apple introduce aplicatia Reminders din sistemul de operare iOS plus posibilitatea de a sincroniza reminder-urile de pe iDevice-uri cu aplicatia de pe Mac. Orice reminder setat pe un iDevice va fi automat afisat pe mac si procesul este invers deci puteti face pe Mac-uri reminder-urile care vor fi automat afisate pe toate iDevice-urile voastre. Impreuna cu noul Notifications Center din Mountain Lion aplicatia Reminders va tine tot timpul utilizatorii la curent cu task-urile pe care trebuie sa le faca.
Now nothing slips your mind. When you have so much to do, Reminders helps you get it done. It's all in a list. More than one, in fact. Make as many lists as you need and easily add to them. Set due dates and you'll get alerts as deadlines approach. Check items off your lists as you go and keep track of what you've completed. And to be sure you don't forget anything, iCloud keeps your reminders up to date on your Mac, iPad, iPhone, and iPod touch.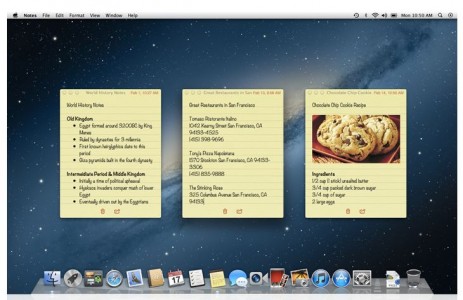 Notes este o noua aplicatie a Mountain Lion si in esenta ea este aproape identica precum aplicatia din iOS. Versiunea de pe Mac suporta rich text formatting, permite adaugarea pozelor intre propozitii, permite "lipirea" notitelor pe desktop si prin iCloud permite vizionarea/editarea lor pe orice iDevice. Oricine are un iDevice in mana va vedea aplicatia Notes de pe Mac, o va recunoaste imediat si o va folosi cu mult mai multa placere multumita gesturilor si functiilor noi implementate de Apple.
A feature for your thoughts. Notes in OS X Mountain Lion is designed for whatever's on your mind. Think it up. Jot it down. Make it even more noteworthy with photos, images, and attachments. You can add, delete, and flip through your notes or do a quick search. Use the Share button to send your notes to friends or colleagues with Mail or Messages. Pin important notes to your desktop so they're easy to get to. And take them with you everywhere. Notes works with iCloud, so when you create or edit a note on your Mac, it automatically updates on your iPhone, iPad, and iPod touch.
Share Sheets este o noua functie a Mountain Lion care permite utilizatorilor sa partajeze link-uri catre pagini web, poze plus multe altele folosind aplicatii din OS X. Apple a inclus un buton de share in mai multe aplicatii ale sistemului de operare, dezvoltatorii vor putea face acelasi lucru si prin intermediul lor veti putea partaja continut foarte simplu si usor catre prietenii vostri. Desigur ca functia este implementata din iOS unde o regasim intr-o varietate de aplicatii.
When you see it, share it. You'll find the Share button in many OS X Mountain Lion apps. It's the new, easy way to spread the word — links, photos, and videos, too. Send links from Safari. Send your notes via Mail and Messages. Post photos to Flickr. Send videos to Vimeo. And tweet just about anything.
Daca iOS avea Twitter implementat atunci noul Mountain Lion nu putea veni fara asa ceva iar in aplicatiile iPhoto, Photo Booth si Safari veti avea un buton dedicat pentru partajarea diverselor informatii pe Twitter. In iOS avem aproximativ aceleasi functii, exceptie fac aplicatiile iPhoto si Photobooth care nu exista in iOS(exceptie facand tableta iPad 2) insa aplicatia Photos are aceasta optiune. In sistemul de preferinte al OS X Mountain Lion vom avea posibilitatea de a ne loga pe Twitter si sistemul de operare va face legatura dintre contactele noastre si prietenii de pe Twitter.
Tweet right from your apps. OS X Mountain Lion keeps you on top of all things Twitter. Sign in once and you're all set to start tweeting — and you don't have to leave the app you're in. Tweet links and photos directly from Safari, iPhoto, or Photo Booth with the new Tweet Sheet. Tweet comments and add locations. And when someone mentions you in a tweet or sends you a direct message, you'll get a Twitter notification right then and there.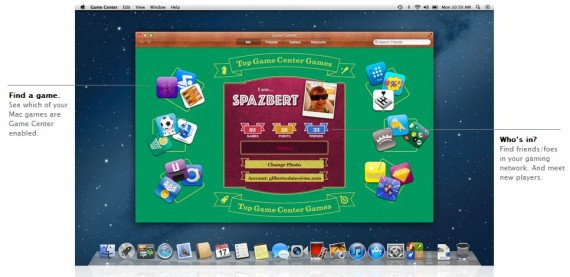 Pentru ca iOS-ul are o retea sociala de gaming Mac-ul trebuia sa permita utilizatorilor sa interactioneze cu prietenii care au iDevice-uri iar acest lucru se intampla cu ajutorul Game Center. Versiunea Game Center pentru Mac aduce aceleasi functii precum cea pentru iOS insa ofera in plus posibilitatea de a vorbi cu prietenii vostri folosind un microfon insa nu permite realizarea de apeluri FaceTime, inca. Utilizatorii de iDevice-uri vor putea juca impotriva posesorilor de Mac-uri, vor putea trimite friend request-uri si vor putea impartasi rezultatele in jocuri.
Mac gets in on the game. The Mac is about to go up against iPad, iPhone, and iPod touch — in a friendly Game Center way.2 Now it's a bigger playing field with even more competition. Just create a Game Center account with your Apple ID. Then sign in and you're in. Friends will find you fast, and you'll track them down easily. Get a multiplayer game started or go up against people you don't know. Check out leaderboards and see how your high score ranks against opponents' scores around the world. And discover new games based on the ones you and your friends already play.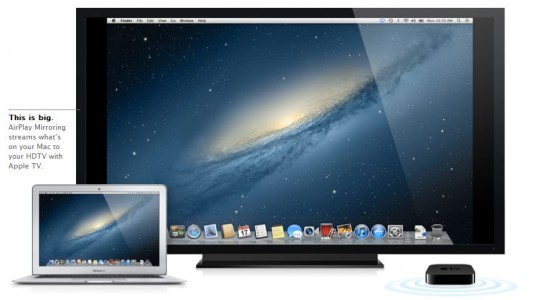 AirPlay Mirroring este ultima functie implementata de Apple in OS X Mountain Lion si cu ajutorul ei vom putea transpune ecranul in Mac pe ecranul unui televizor folosind un Apple TV, functia fiind identica, cu cea disponibila in iOS. Din pacate streaming-ul facut prin Apple TV este doar in frmat 720p deoarece produsul celor de la Apple nu este capabil sa transmita video in format Full HD. Este foarte posibil ca o noua versiune a Apple TV sa aduca si streaming Full HD insa pana atunci ramanem la 720p.
Your Mac is on TV. This new feature in Mountain Lion is made for an audience. With AirPlay Mirroring, you can stream what's on your Mac to your HDTV via Apple TV. Show web pages and videos to friends on the couch. Share lessons with a classroom. Present to a conference room. It's a big deal for your Mac. And for everyone around it.
Aici gasiti informatii despre: Messages Beta, Notifications Center si Gatekeeper.