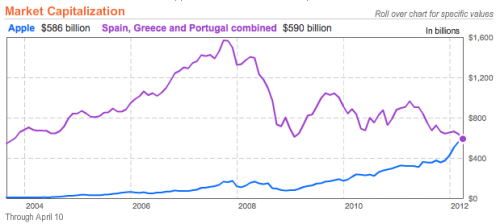 iDevice-urile au ajutat Apple sa devina cea mai valoroasa companie din SUA si in curand valoarea capitalizarii sale bursiere ar putea intrece valoarea combinata a tuturor companiilor publice din Grecia, Spania si Portugalia. Cei de la Bloomberg sustin ca peste 500 de companii publice s-ar afla in aceste tari si valoarea lor totala a capitalizarii lor bursiere ar fi de 590 de miliarde de dolari, cu doar 7 miliarde mai mare decat cea a companiei Apple. In anul 2007 toate aceste companii valorau peste 1.6 miliarde de dolari si Apple doar 165 de miliarde insa criza europeana a dus la o scadere cu peste 1 000 miliarde a valorii tuturor companiilor.
The CHART OF THE DAY shows the equity capitalization of Cupertino, California-based Apple, the world's most valuable company, and that of the three European countries at the center of Europe's sovereign-debt crisis, according to data compiled by Bloomberg. The total market value of the nations' public companies in November 2007 was 11 times that of Apple's before $1 trillion was wiped off their shares. "This shows the difference between the dark macro challenges and the bright corporate fundamentals, and highlights the change in dynamics that has taken place in the past couple of years," said Henk Potts, an equity strategist at Barclays Wealth in London, which oversees $239 billion, in an interview.
  Desi Apple pare sa fie mai populara ca oricand, nu trebuie sa uitam ca vorbim despre valori abstracte care se schimba de la un minut la altul si valoarea reala a unei companii este mult mai mica decat cea listata la bursa.