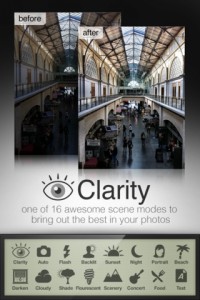 Camera+ este fara discutie una dintre cele mai bune aplicatii pentru facut poze si in baza ei au fost dezvoltate nenumarate "clone" mai mult sau mai putin reusite. In cursul serii trecute dezvoltatorii aplicatiei Camera+ au lansat in App Store un update pentru celebra lor aplicatie, acesta axandu-se exclusiv pe rezolvarea bugurilor existente in versiunea anterioara. Mai exact cei de la taptaptap au rezolvat bugurile care impiedicau o deschidere rapida a aplicatiei, bugurile care duceau la pierderea informatiilor exif, bugul care impiedica deschiderea librariilor foto dupa apasarea butonului "+", etc :
fixed a bug where Camera+ would launch very slowly if you previously had your shooting mode set to Burst (if you're still experiencing slow launch times, please contact us at http://taptaptap.com/contact with more details so we can help resolve any lingering issues)
fixed a bug where some user's photo libraries weren't able to load after pressing the Magical + Button™
fixed a bug where a mysterious white line would appear at the bottom of the Lightbox at seemingly random times (our first assumption was that it was some sort of paranormal thing, but after further inspection, it turned out to simply be us using too aggressive of an image optimization setting for the app graphics… science wins again!)
fixed a bug where we somehow cut the wire that links the optimized quality setting in the menu to the actual function in the app… apologies to those of you who have limited space on your iPhone
fixed a bug relating to missing date information in the photo EXIF data (apologies for the jargonriffic explanation for this one)
NOT owned by Facebook

Oh, and speaking of Facebook, we have fixes for the issues that some of you've been experiencing with Facebook posting. We decided that it'd be best to hold them for the next release because we need to do much more extensive testing on them, though. But rest assured that we're on it and you'll see them in another update shortly.
  Camera+ este disponibila pentru 0.79€ in App Store si functioneaza doar cu iPhone/iPod Touch.
Numele:
Camera+
---
Developer: Inventive, Inc.
Categoria: Photo & Video
Descriere: ON SALE!
Over 7 million sold!
If the iPhones standard camera is like a digital point-and-shoot, the Camera+ app is like a high-quality SLR lens.
TIME: 50 Best iPhone Apps 2011
improves on almost …
Dimensiunea aplicatiei este: 20.9 Mb
---