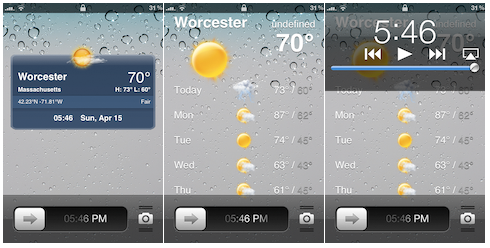 LockHTML este un tweak lansat in cursul acestei zile in Cydia, iar cu ajutorul sau veti putea afisa widget-uri HTML in LockScreen-ul iDevice-urilor voastre. Dupa cum vedeti si in imaginile de mai sus, tweak-ul are o functionalitate foarte interesanta, iar cu ajutorul sau puteti schimba interfata lockscreen-ului vostru. Widget-urile trebuie facute de voi sau preluate din Cydia, ori alte surse, insa partea cea mai proasta este ca nu veti mai vedea in LockScreen notificarile pe care le primiti de la aplicatii.
LockHTML is a Tweak to allow HTML widgets to be enabled in the lock screen. Widgets are Loaded dynamically so need to respring after changing, modifying, or updating the widget.

LockHTML Features:

Dynamic Loading HTML Widgets
Uses Actual LockScreen Background(no need for Wallpaper JPEGifier)
Hide LockScreen Clock
Access to Controls and Clock With Double Click Home Button

All Themes need to be stored in /User/Library/LockHTML/ With a LockBackground.html located within the folder.
  LockHTML se anunta a fi un tweak extrem de interesant, mai ales ca el permite rularea unor widget-uri facute intr-un limbaj de programare destul de simplu. Deocamdata LockHTML nu ofera prea multe, insa daca va intereseaza il puteti cumpara pentru 0.99$ din Cydia.