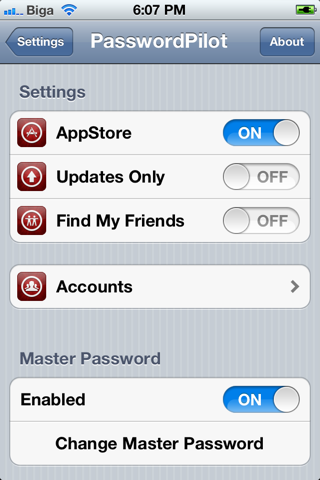 PasswordPilot Pro este un tweak lansat in cursul serii trecute in Cydia, iar cu ajutorul sau puteti simplifica procesul de adminsitrare a Apple ID-urilor in iDevice-ul vostru. Tweak-ul are rolul de a tine minte parola pe care o utilizati pentru a va loga in aplicatiile care folosesc un Apple ID si de a o introduce automat in campul de logare. Tweak-ul este capabil sa functioneze cu mai multe Apple ID-uri, sa recunoasca Apple ID-ul folosit pentru fiecare aplicatie si sa asocieze/completeze automat parola voastra.
PasswordPilot Pro is the ultimate solution to improve your user experience when you need to enter your AppleID password: everyone wants to keep their account secure, so we need a secure password when dealing with our account. At the same time though, it's sometime a pain to type that long password, especially when we just want to try out a free app or we're updating our existing apps. It's here that PasswordPilot Pro will dramatically help you: enter your account credentials, just once. The password is stored securely (using NSA-approved encryption standards) and PasswordPilot Pro will automatically detect which account you are using and insert the appropriate password, when you need it. You can also choose to enable it only for app updates, to prevent anyone from downloading new apps without your consent.

Settings can be protected using a master password, so you will be the only one being able to modify them. PasswordPilot Pro supports multiple account and you don't need to switch between them, as it will automatically detect which one you're using. It works basically anywhere your Apple ID account password is required: AppStore, iTunes Store, iBooks, Find My Friends and also in-App Purchases.
  Partea proasta a acestui tweak este ca el functioneaza numai cu Apple ID-uri si cred ca in viitor ar fi utila implementarea suportului pentru mai multe tipuri de conturi. PasswordPilot Pro are un meniu de setari in aplicatia Settings a iOS, iar acolo puteti administra conturile pentru care aveti salvate parole, dar si aplicatiile in care sunt afisate informatiile. PasswordPilot Pro este disponibil in Cydia la pretul de 1.99$.