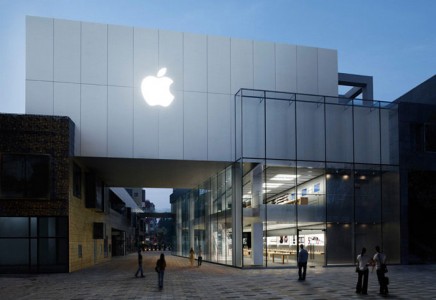 China este una dintre cele mai importante piete de desfacere pentru Apple, compania americana generand de acolo aproximativ 10% din vanzarile trimestriale. La o tara cu peste 1 miliard de locuitori Apple are 6 magazine deschise si cei de la Reuters calculeaza ca exista cate 1 magazin pentru fiecare 216 milioane de chinezi. Publicatia sustine ca aceste magazine sunt in general supraaglomerate de numarul foarte mare de clienti care le viziteaza, insa Apple lucreaza din greu la constructia altor magazine, reprezentantii sai spunand ca pana la sfarsitul anului ar mai trebui sa deschida inca 19 in regiune.
SHANGHAI (Reuters) – Apple Inc has more retail stores in Pennsylvania than in all of China – where it earns a fifth of its revenue – and a slow pace of expansion may cost the firm more than just sales. Apple's six stores in Greater China are routinely packed, and customers often wait in long lines for iPhone repairs. Scalpers are known to camp out to be first in line for new products, which they then re-sell for a tidy profit.
  Facand o comparatie putin fortata, cei de la Reuters spun ca in statul american Pennsylvania Apple are mai multe magazine decat in intreaga China, insa este mai usor sa deschizi un magazin in propria tara decat intr-o tara in care anumite legi nu au prea multa valoare. Desigur ca in viitor Apple isi va intensifica prezenta in China si va construi mai multe magazine, insa deocamdata chinezii se chinuie cu ce au.