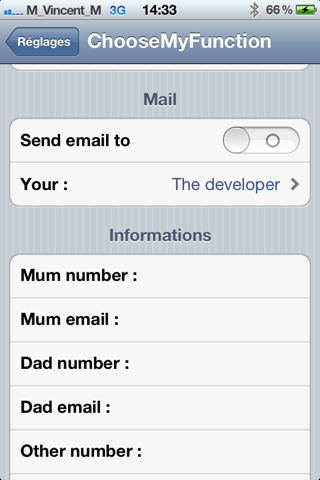 ChooseMyFunctionV2 este o aplicatie lansata in cursul noptii trecute in Cydia, iar prin intermediul sau putem indeplini diverse functii in iOS prin simpla accesare a iconitei ei. Aplicatia va avea disponibila in Springboard o iconita, iar in interiorul aplicatiei Settings va avea un meniu din care vom putea alege functia pe care o va indeplini aplicatia la accesare. Putem alege sa deschidem interfata de trimitre a unui email, sa sunam pe cineva, sa deschidem automat o alta aplicatie sau chiar sa afisam un popup in mijlocul ecranului iDevice-ului nostru.
With ChooseMyFunctionV2, you will be able to choose the function of one application : "MyFunction". It's so much better and faster than ChooseMyFunction and it add actions ! Look at the screenshot. A special action icon will be added to your home screen.
  ChooseMyFunctionV2 este disponibila in repo-ul BigBoss al Cydia.