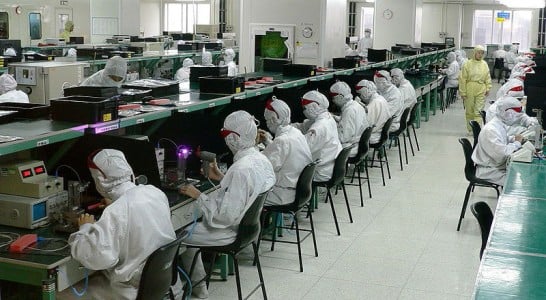 La Foxconn intotdeauna au exista probleme cu angajatii, fie ca era vorba despre sinucideri cauzate de programul extrem de incarcat ori de salariile prea mici, de la Foxconn rareori auzim lucruri bune. Din pacate nici urmatoarele vesti nu fac exceptie deoarece o publicatie locala sustine ca mii de studenti ale mai multor universitati din China ar fi fost fortati sa asambleze terminale iPhone 5 la Foxconn deoarece compania nu are indeajuns de multi angajati care sa preia aceasta sarcina. Orele de studii din universitati ar fi fost intrerupte pentru ca studentii sa ajunga la Foxconn unde se estimeaza ca era nevoie de 10.000 de angajati pentru a produce noul iPhone.
THOUSANDS of students in an east China city are being forced to work at a Foxconn plant after classes were suspended at the beginning of the new semester, it has been revealed. Students from Huai'an in Jiangsu Province were driven to a factory in the city run by Taiwan's Foxconn Technology Company after the plant couldn't find sufficient workers for the production of Apple's much-anticipated iPhone 5, they said in online posts. A student majoring in computing at the Huaiyin Institute of Technology said 200 students from her school had been driven to the factory.  They started work on the production line last Thursday and were being paid 1,550 yuan (US$243.97) a month for working six days a week, she said. Several other students from at least five colleges backed up what she said, saying they were being forced to work for 12 hours a day.
  Studentii ar fi platiti cu aproximativ 250$ pe luna, ar fi obligati sa munceasca 6 zile pe saptamana, fiecare zi de lucru durand cate 12 ore. Desi unii studenti nu au fost multumiti de efortul la care sunt supusi, doar cativa au publicat online informatii in legatura cu acest eveniment, dar multi accepta sa lucreze acolo. Daca informatiile sunt adevarate, atunci vedem din nou ca in China lucrurile nu sunt chiar atat de normale precum sunt ele prezentate in lumea larga, iar mari companii au puterea de a opri anul universitar pentru a asambla diverse produse.