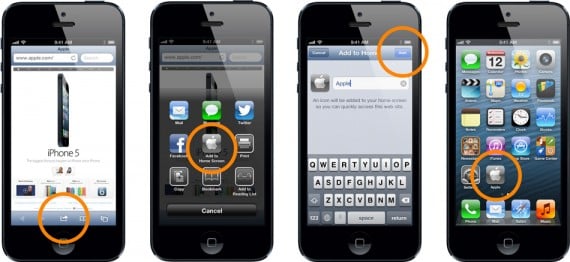 La scurt timp dupa publicarea scrisorii prin care Tim Cook isi cere scuze fata de consumatori pentru implementarea aplicatiei Maps din iOS 6, Apple a publicat o pagina prin care explica utilizatorilor modalitatea prin care pot adauga shortcut-uri in Springboard pentru serviciile de harti ale Google si Nokia. Apple explica in 4 imagini cum trebuie procedat pentru a adauga un shorcut si cred ca majoritatea dintre voi stiau deja acest lucru. Daca nu stiati, atunci imaginile de mai sus sunt cat se poate de elocvente si nu cred ca trebuie explicate de catre mine.
For fast, easy access to Google and Nokia maps on the web, simply add their sites to the Home screen of your iOS 6 device.
  maps.google.com este website-ul Google Maps si maps.nokia.com este website-ul Nokia Maps. Ele functioneaza doar sub forma de aplicatii web, s-ar putea sa aveti probleme in a face rute si a incarca diverse locatii, insa daca iOS 6 Maps nu va ajuta, ele sunt alternative bune, mai ales ca Google Maps va avea si StreetView in urmatoarele 2 saptamani. Aplicatiile web sunt accesibile din orice browser si doar iPhone-urile, iPad 2/3 3G au chip GPS integrat, insa restul iDevice-urilor pot face localizare in baza retelei Wi-Fi.