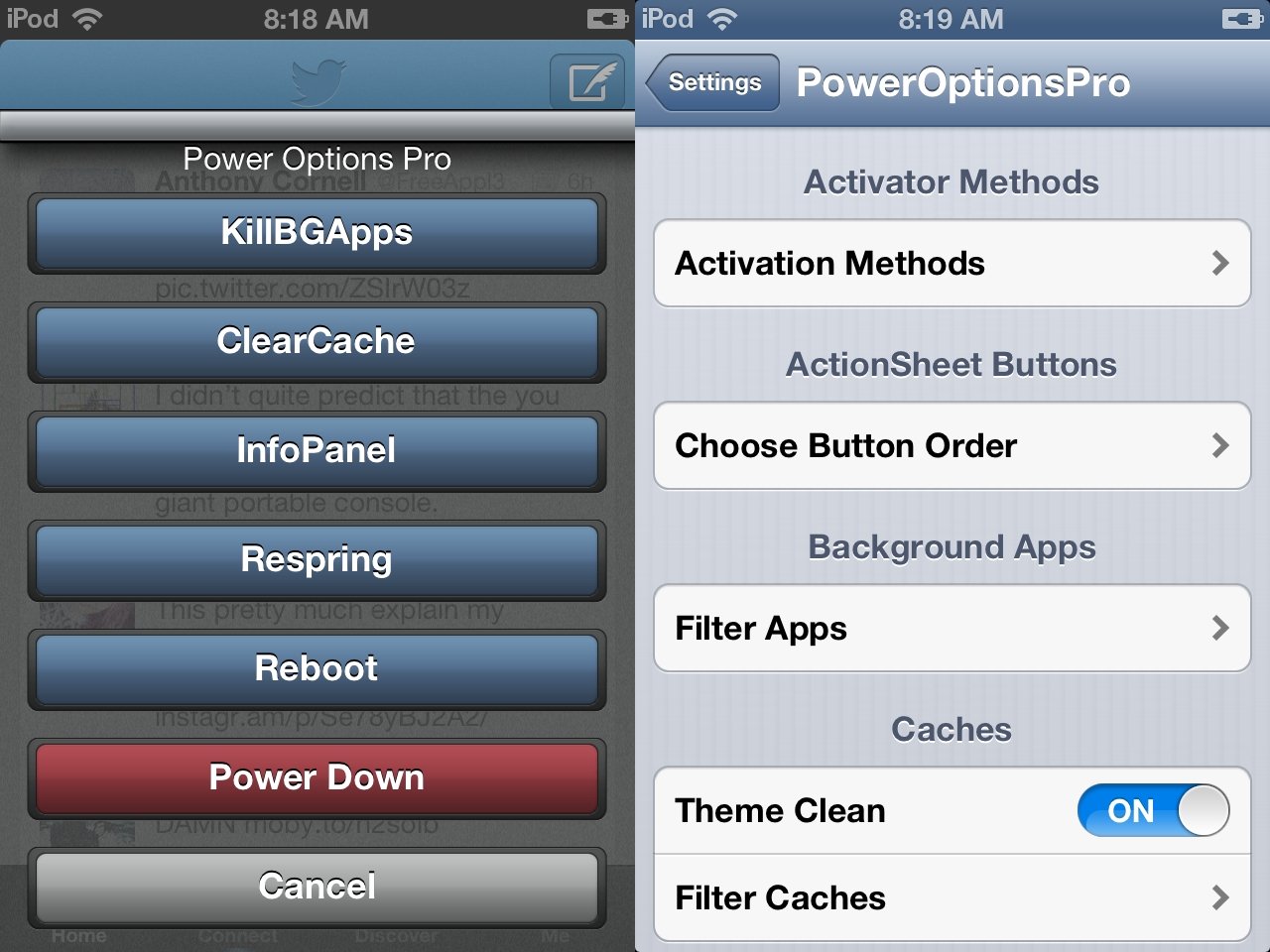 PowerOptionsPro este un tweak lansat in cursul acesteo zile in Cydia, iar cu ajutorul sau puteti utiliza cateva comenzi foarte utile in iOS. Tweak-ul functioneaza prin Activator, sau cu ajutorul butoanelor, si va permite sa setati ca activarea sa fie facuta in orice mod, deci nu conteaza daca apasati un buton sauf aceti un swipe, interfata sa va fi activata. Din meniul de setari disponibil in aplicatia Settings puteti alege comenzile care pot fi intreprinse si puteti alege intre: resetarea terminalului, efectuarea unui respring, inchiderea sa, inchiderea tuturor aplciatiilor deschise in background si altele.
PowerOptions Pro is here! This tweak is a must for ALL jailbroken devices. Have you ever been in posistions were you need to either respring, reboot, power down get into safe mode with ease and didnt have the ability, now you do! This tweak not only does all that but much much more unlike other power tweaks out there we went the extra lenght at iDeviceDesigns and wanted to create a comple device managment tool for you. You can now remove ALL or just your desired app from the switcher, clear all your cahces or desired caches, View your device memory and networks, as well as your Lockscreen dim delay and clock. Theres not much that PowerOptionsPro caint do and you can now just remove some of your old tweak and consolidate it down to 1 with PowerOptionsPro!
  Folosind PowerOptionsPro aduceti in iOS o serie de comenzi care in mod normal nu sunt disponibile fara jailbreak, insa alte tweak-uri le implementeaza in moduri relativ similare. Tweak-ul este disponibil in repo-ul ModMyi al Cydia.