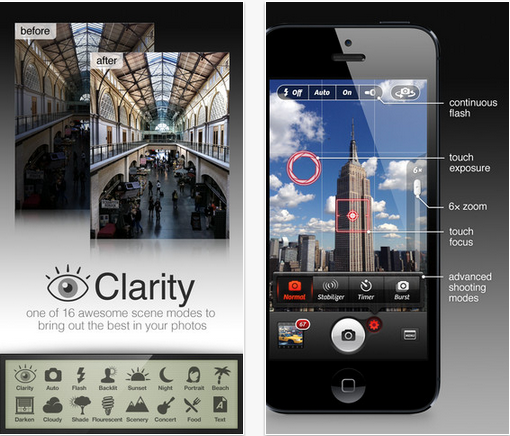 Camera+ este aplicatia pe care o utilizez de fiecare data cand doresc sa fac poze, iar in cursul noptii trecute ea a fost actualizata de catre dezvoltatorii sai. Versiunea 3.6.2 este acum disponibila pentru download din App Store, ea rezolva bugul care afisa un preview negru pentru poze dupa deschiderea aplicatiei, iar in plan secundar au fost imbunatatite performantele generale si au fost rezolvate alte mici probleme de functionalitate intampinate de utilizatori :
THE HELLA-BUG IS DEAD!!

If you're one of the unfortunate Camera+ users who've been plagued by the bug where you launch Camera+ and you get a black camera preview, then we've got some incredible news for you… that bug is now ancient history!

This annoying bug has been in Camera+ for waaay too long, but we weren't able to reproduce it ourselves so it remained as elusive as the Loch Ness Monster, Bigfoot, and John McAfee. But thanks to the most magical 1-star review, Camera+ user MikeDVB finally detailed the exact steps to reproduce it. As soon as our Bug Extermination Department got the word, POOF… it was gone like Keyser Söse.

In addition, we've done a lot of work on performance, so if you've experienced any slowdowns in recent Camera+ releases, especially during startup, this version should hopefully get you fixed-up.
  Aplicatia este disponibila in App Store la pret minim si daca nu ati descarcat-o inca, va recomand sa o faceti.
Numele:
Camera+
---
Developer: tap tap tap LLC
Categoria: Photo & Video
Descriere: ON SALE!
BUY NOW BEFORE THE PRICE GOES UP!
Over 9 million sold!
The Clarity filter is iPhone photographys secret sauceit adds pro-camera crispness to almost any shot.
Kevin Sintumuang, The Wall St…
Dimensiunea aplicatiei este: 22.3 Mb
---